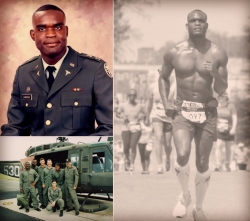 Washington, DC, August 18, 2014 --(
PR.com
)-- Although Dr. Clayton Lawrence has most recently been recognized for his role as a successful business executive, leader of a non-profit organization, and a health and fitness expert in the Washington D.C. community, he never fails to acknowledge the role that he feels has made the most significant impact in his personal and professional life - the role of a solider, and now, a veteran. Having served in the United States Army for a total of nine years, five years as a military physician and four years as a reserve officer, Dr. Lawrence attributes the discipline, ambition, and focus that he has had in pursuit of his many career goals to being fortunate enough to have served our nation's highest calling. It is because of the pride, passion, and patriotism that Dr. Lawrence has had instilled him during his years of service that he continues to find ways to support the military, soldiers, and veterans at any opportunity he gets, and he will continue those efforts by participating in four different events during the months of September and October.
Three years ago, Lawrence made his entrance into endurance sports by beginning marathon training. Though being active and fit was a primary focus for the veteran doctor, having the opportunity to participate in these races to raise awareness for military charities and other non-profit organizations was what mattered most to him. Since, 2011, Dr. Lawrence, through his non-profit organization LEAP Foundation DC, has had the opportunity to support over a dozen charities by earning 41 marathon medals, running in 11 states and five different countries.
"My personal health and well-being has always been a priority in my life. As a doctor, setting a good example for my patients and colleagues through sharing my own wellness journey was of the utmost importance, but running marathons and participating in endurance sports has become so much more," Lawrence says. "The display of sheer strength and dedication by endurance athletes is not only admirable, but to know that they are doing so in support of so many phenomenal causes brings a much deeper sense of purpose to these events."
Lawrence's upcoming races hold even greater meaning to him as he will be participating to bring awareness to and raise resources for military charities. He will begin the series of races with the Navy-Air Force half marathon in Washington, D.C., on September 14th, followed by the Air Force full marathon in Dayton, Ohio, on September 20th, which will support of the charity Operation Homefront. On October 12th, he will participate in the Army 10-Miler in D.C. to support the Hope for the Warriors organization, and on October 26th, he will run the Marine Corps Marathon in support of the Semper Fi Fund.
"I have been fortunate to be able to participate in so many incredible events that support great causes around the world. The next four races are extremely important to me, as they honor, support, and bring encouragement to the men and women in uniform who have served our country honorably, making far greater sacrifices than most of us can imagine. As a veteran, I will always do my part to honor and support our military members, both past and present, serving at home and abroad."
To learn more about Dr. Lawrence, LEAP Foundation DC, and the charitable efforts of the organization, please visit www.leapfoundationdc.org.