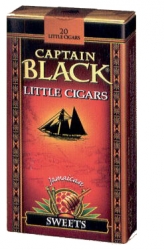 Miami, FL, August 19, 2014 --(
PR.com
)-- Known for producing some of the most affordable and flavorful tobacco products around, Captain Black is a favorite of smoking enthusiasts who prefer not to spend high-dollar amounts for high-quality taste. The American company specializes in little cigars and pipe tobacco but also offers other products such as cigars, cigarillos, and tipped cigars.
Captain Black Little Cigars are some of the boldest, most aromatic smokes on the market, pound-for-pound. Being no larger than a standard cigarette, these minis give users a more enriching experience than many standard-sized cigars that are several times their size. They come in a wide variety of flavors, including vanilla, cherry, peach rum, menthol, dark, sweets, and more. Each one brings something very unique to the table, so both traditionalists and new school smokers will have something to please their palates. Compact, long-lasting, and bursting with savor, choosing Captain Black Little Cigars means making a bet you'll always win.
The popular
Captain Black Little Cigars
can be purchased directly from Florida Tobacco Shop using the online webshop. The business might be new, but the owners and employees are longtime veterans of the tobacco business. With an experienced staff of friendly and highly knowledgeable tobacco enthusiasts, every shopping experience at Florida Tobacco Shop is guaranteed to be a good one. Whether customers want a recommendation to try a new smoke or need to get schooled on the basics of tobacco and tobacco products, the service-oriented staff is there to help.
Florida Tobacco Shop carries everything that tobacco fans would want. Cigars, cutters, ashtrays, blunt wraps, lighters, humidors, and more are always in stock. Great prices, a huge selection, and excellent customer service keep customers coming back for more. In addition to Captain Black, Florida Tobacco Shop also carries products by top brands like White Owl, Wrangler, and Black & Mild. From low-end smokes to the stuff that only refined palates can enjoy, Florida Tobacco Shop has it all.
To begin shopping now, head over to FloridaTobaccoShop.com. The secure website is functional 24/7, and there's free shipping for any order exceeding $150. All shipping is done via UPS and USPS to all states, including Alaska, Hawaii, and Puerto Rico. If customers aren't satisfied with their purchases, a refund may be awarded within 40 days of purchase.
Contact: Lesmy Jacomino
FloridaTobaccoShop.com
7290 NW 7th St
Suite 105
Miami, FL 33126
US
Phone: 800-774-0414