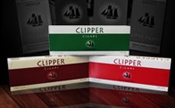 Miami, FL, August 22, 2014 --(
PR.com
)-- Cigarillos are similar in flavor and draw to traditional cigarettes. Filtered cigars are closer in flavor and draw to premium cigars. They are not meant to be inhaled, but should be smoked just like a premium cigar. Clipper filtered cigars and cigarillos are available in full flavor, lights, menthols, peach, cherry, strawberry, grape and clove flavors. All are produced with quality tobaccos in the Dominican Republic and feature a light aroma with a pleasant taste. Many people find them to be similar in taste and aroma to Indonesian Djarum filtered cigars. The natural flavors give a pleasant fruit essence to the tobacco without overpowering it.
FloridaTobaccoShop.com
offers the convenience of secure 24/7 online shopping with free shipping on orders over $150 to all 50 states and Puerto Rico with UPS, Federal Express and the United States Postal Service. In addition to cigars and cigarillos, the company also sells cigar cutters, ashtrays, humidors, lighters, cigarette filter tubes and cigarette papers.
The site offers aggressive pricing discounts. Gurkha Grand Reserve Torpedo Maduro cigars, which retail for $470 for a box of 30, can be found on FloridaTobaccoShop.com for $282.99. Many other brands are available with similar discounts.
A wide variety of cigar samplers are carried by FloridaTobaccoShop.com. The sampler packs allow buyers to survey brands at packaged price points to discover personal preferences within that brand. They also provide variety without necessitating the purchase of entire boxes of multiple cigar types. Samplers from Cohiba, San Cristobal, Rocky Patel, Perdomo, Davidoff and many other brands are available.
For more information, contact:
FloridaTobaccoShop.com
7290 NW 7th St
Suite 105
Miami, FL 33126
Phone: (800) 774-0414