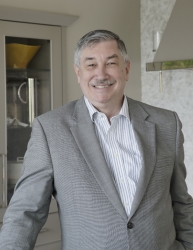 Glen Ellyn, IL, August 20, 2014 --(
PR.com
)-- Kelly Stewart, a Certified Master Kitchen and Bath Designer [CMKBD], brings a rich and eclectic perspective to the Drury Design team. To view Kelly Stewart's web bio, visit http://www.drurydesigns.com/about/team/kelly-stewart-cmkbd.
If you've seen Lidia Bastianich cooking show, "Lidia's Italy" on PBS, you've seen one of Kelly's kitchens.
Son of the legendary Leslie Stewart CKD whose kitchen design client list included Alfred Hitchcock and Marilyn Monroe, Kelly is creating a legacy of his own.
Gail Drury, CMKBD and president of Drury Design said, "Having worked with Kelly in the early stage of our careers, I've been impressed by his creative portfolio over the years. We are delighted to welcome such a talented design colleague to our team – and back to the Chicago area."
About his return to the Chicago area Kelly says, "I've always enjoyed the greater Chicago area for progressive architecture and interior design. After living in Connecticut for 26 years, it's very freeing to get back to an area of the country that is one of those geographic areas where you're doing leading edge design. Many areas of the county are design followers. Chicago is a design leader."
With over four decades of kitchen design and interior architecture experience, Kelly's client portfolio includes kitchen designs in historic homes dating back to the 17th century as well as in iconic buildings such as Willis Tower, Watergate and Chicago's Merchandise Mart; and in homes by famous architects like David Adler, Stamford White, and Mies Van Der Rohe.
Kelly's kitchen design work is mentioned in many books including Great American Kitchens, Kitchens by Professional Designers, Kitchen and Bath Showcase, Kitchens by Designers Who Really Cook, and Kitchens, Designs for Living.
Many magazines have featured Kelly's kitchen and bath design client projects, including House Beautiful; Better Homes and Gardens; American Homestyle; Women's Day Decorating Ideas; Kitchen and Bath Showroom; Qualified Remodeler; Home; Best Kitchens and Baths; NKBA Magazine; Kitchen and Bath Design News; Kitchen and Bath Business; Homestyle and Gardening; Connecticut Cottages and Gardens; Connecticut Home and Garden; Capitol; and Antiques.
Winner of kitchen and bath cabinetry sales awards from St. Charles Manufacturing Company and Heritage Kitchens, Kelly's also been honored with numerous National Kitchen and Bath Association [NKBA] awards and is a regional Sub-Zero Wolf Design contest winner. In addition to holding many NKBA leadership positions, Kelly was a peer reviewer for the NKBA kitchen design industry technical manuals and taught in industry design schools for 11 years.
About Drury Design . . .Founded by Gail Drury, CMKBD in 1987, Drury Design's Client Focused Design™ approach integrates design recommendations, materials selection and construction management into one seamless customer design, project management, and build experience. In 2014, Drury Design received two "Best Of Houzz" awards for Customer Satisfaction and Design from http://houzz.com. For kitchen, bath and home remodeling ideas, view Drury Design's design portfolio at http://www.drurydesigns.com/portfolio/ or stop by the studio at 512 N. Main Street in downtown Glen Ellyn, Illinois.