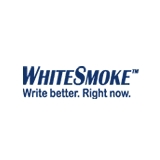 Wilmington, DE, October 26, 2007 --(
PR.com
)-- Today WhiteSmoke announces the official release of WhiteSmoke 2008, the latest version of their award-winning writing and grammar software. Focused research and development efforts resulted in significant upgrades improving this revolutionary online text enhancement tool, which now takes the user's experience to a whole new dimension. The optimized features for better usability now dynamically pop-up when needed in a cleaner state-of-the-art interface.
WhiteSmoke 2008 amends grammar, spelling and punctuation, and enriches the user's text by suggesting alternative and/or additional wording – and all this at a fraction of a second and in any application that uses a text box. Text modifications are based on user input and real English usage, researched and implemented by a team of natural language processing (NLP) experts.
Central to WhiteSmoke 2008 is the completely redesigned graphical user interface (GUI). WhiteSmoke founder and CEO Hilla Ovil-Brenner explains, "The GUI is now more user-friendly with easier to navigate drop-down menus and fewer buttons, all in a refreshing cobalt-blue design." In addition, users are now able to type extra text, at any length, directly into the WhiteSmoke window for editing.
WhiteSmoke's 2008 version
also features an improved Notifier, which brings the user's attention to grammar and spelling mistakes as they type. "The user benefits from an on-the-spot pop-up window that alerts the writer to a mistake and suggests a correction. The user can either correct the error manually in the application or launch WhiteSmoke for automatic correction, thus saving valuable editing time," says Liran Brenner, WhiteSmoke Vice President R&D.
More upgrades resulting from the continual enhancement of the artificial intelligence algorithms enable more accurate detection and correction of even more grammar errors. British English spelling and vocabulary items have also been updated. These join advancements in the enrichment database providing more suggestions (more synonyms, adjectives and adverbs). Finally, more entries have been introduced to the dictionary, thesaurus and idiom database.
WhiteSmoke 2008 is available immediately from www.whitesmoke.com.
About WhiteSmoke
WhiteSmoke is a world leader in English grammar and writing technologies. It was ranked 5th among Business 2.0's "31 Best Business Ideas in the World" in 2006, and continues to expand with new worldwide server locations and focused R&D efforts. More information about WhiteSmoke products and pricing is available from the WhiteSmoke website at:
http://www.whitesmoke.com/
Contact: David Brown / 972-548-138-873 / david_brown@whitesmoke.com
###