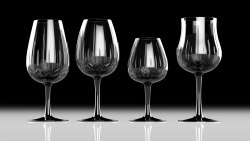 San Carlos, CA, August 27, 2014 --(
PR.com
)-- Swerl is updating their line of oxygenating glassware via a new Kickstarter campaign which seeks to bring the elegant prototypes to production in 2015. Swerl glasses markedly improve the taste and texture of value-priced wines and spirits. The new designs feature sleek bowl shapes, heftier stems, and a more complex Swerl petal pattern for a cut-glass look. Max height for the 4 new glasses is 8" to fit nicely into electric dishwashers. Swerl has created Italian-effect names for the glasses: Alto (tallest); Mezzo (mid-size); Floro (mid-plus tulip); and Fino (6.5" for spirits/port). Swerl glassware has been featured on The Today Show and has received certification from The Cooking Club of America.
"Swerlware products feature a patent pending pattern of ridges inside each vessel that aerates water-based liquids like wine, spirits, and coffee when the liquids are swirled in-glass. They eliminate the use of messy 1-pass aerators and are ideal for value-priced wine consumers," said Mike Dikas, Principal at Swerl. "Swerl glassware has a significant effect on wines that are produced to turn over in one year, releasing chemical tastes and smells from bottling that won't get the chance to mellow in-bottle. The new line features a glass specifically designed to do this for value-priced spirits that are consumed neat like scotch or tequila. Our initiative on Kickstarter ends on September 14th, so we're hoping that wine and spirits consumers will visit our project and help us get the 2015 Swerl line to market."
Kickstarter is a crowd funding platform that enables start-ups and entrepreneurs to raise funds for production from "backers" who pay a small amount for first article product. Funds pledged by backers are only realized if the pre-determined project goal is met.
Swerl Kickstarter Link:
https://www.kickstarter.com/projects/63825888/effortless-wine-aeration-in-glass-just-swerl
About Swerl LLC
Swerl LLC develops and markets aerating drinkware under the SwerlwareTM brand name.