Petri Entertainment's Movie Find Me Can be Found Sept. 2nd on Demand
The paranormal thriller from director Andy Palmer will be released in the U.S. and Canada Tuesday by Gravitas Ventures.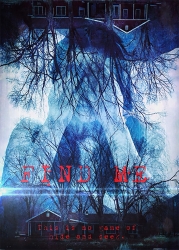 Los Angeles, CA, August 29, 2014 --(
PR.com
)-- Find Me, the latest film from director Andy Palmer, will shock audiences when it's released on Tuesday, September 2nd.
Gravitas Ventures acquired the paranormal thriller from Petri Entertainment and will release it On Demand in the United States and Canada, while World Wide Film Entertainment will release it in foreign territories.
"This film is extremely special to me," Palmer said today. "We shot it in my hometown of Basalt, Colorado -- some of it at my old high school. The cast and crew became a tight-knit family as we fought through the Colorado winter to bring this scary little tale to life.
"I am so grateful to everyone involved who helped make Find Me a success. I'm especially grateful to the folks at Gravitas Ventures for having the faith in our little film to release it to the world."
Find Me may be a "little film," but it is packed with big scares and fine performances.
It tells the story of newlyweds Emily and Tim as they settle into a small farm house in Emily's childhood hometown. Before the boxes are even unpacked, the couple realizes there are strange occurrences in the house that were not disclosed by the real estate agent. At first more curious than scared, Tim, Emily and Emily's childhood friend Claire embark on finding out who or what is haunting their house. As clues to a dark history unfold, what began as a series of unusual paranormal episodes soon morphs into violent acts of vengeance.
Find Me is produced by Warner Davis (Awaken, Alien Strain, Welcome to Kain). It was written by Kathryn Lyn (IFC's The Grid) and Cameron Bender (ABC's Mistresses), who star as Emily and Tim. Also starring are Rachelle DiMaria (Alien Dawn, Welcome to Kain) and Carlos Alazraqui (Comedy Central's Reno 911).
Director Andy Palmer is regarded as a rising star of independent films. He's currently filming the thriller, Welcome To Kain, while his sci fi horror film, Alien Strain, is in post-production. An award-winning film and television director, producer and editor, his other feature film credits include the neo-cult classic Andre the Butcher and the multiple award winning documentary, Chasing the Horizon.
He's also edited television shows for networks including ABC, Spike, National Geographic and MTV, directed over 20 short films for the sketch comedy group Man in the Van, and wrote, produced and directed two short films, SleepWalker, and The Last Call, which have been accepted into several film festivals. In 2011, he produced the feature film Awaken, which had its world premiere at the Newport Beach Film Festival and is now available on DVD and Video On Demand.
Petri Entertainment is an independent production company focusing on genre-driven films. Their standard and goal is to complete and deliver first class, upbeat, highly-marketable feature film presentations at a low cost as compared to today's escalated market.
Contact
Petri Entertainment
Andy Palmer
310-945-8740
thepetrientertainment.com
Warner Davis (843) 409-1024
petrientertainment@gmail.com
www.findmemovie.com
https://www.facebook.com/pages/Find-Me/153713168109567?ref=hl

Contact