CyberTouch Introduces Link Indoor Touch Kiosks
Link Indoor Kiosks are offered in diagonals sizes from 22" to 65" with single or multitouch technology.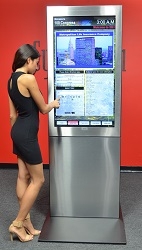 Newbury Park, CA, September 04, 2014 --(
PR.com
)-- CyberTouch, the leading US touch manufacturer introduces their latest product: Link, Indoor Touch Kiosk.
Link is a sleek, modern indoor touch kiosk designed to attract and invite the audience to interact with the information and content being displayed. Available in Single-touch or Multitouch, Link can be purchased in portrait and landscape styles ranging from 22" to 65" diagonal. Single-touch Link is ideal for menu-driven applications such as directories, static maps, and point-of-sale. Multitouch Link is ideal for dynamic maps where the user has the option of pinching and enlarging the map to pinpoint location and destination.
Link may be permanently attached to the floor using solid internal fasteners, or may be used with a standard base for temporary placement – ideal for changing exhibits or seasons. A monolithic layer of safety glass secured by durable stainless steel housing protects Link from external elements and abuse. Choose from a variety of colors and textures to blend the kiosk with its surroundings, and decide which optional technology features are right for your users: external card readers, camera, keyboard, and mouse.
An internal computer with powerful wireless communication allows limitless installation options. Because Link is not restricted by average distances it is ideal for schools, airports, government and corporate centers, or any public place in the need of an interactive information kiosk.
About CyberTouch:
CyberTouch designs, engineers and fabricates custom and standard touch screens and integrated touch-enabled products such as monitors, tables, walls and kiosks in either single-touch or multi-touch styles. Our touch solutions range in size from 6.4" to 40 feet in diagonal. For more information please visit cybertouch.com or contact:
Abraham Gohari Nicole Hansell
Director of Engineering Sales Manager
805-499-5000 x 4140 805-499-5000 x 6440
Contact
CyberTouch
Nicole Hansell
(805) 499-5000
www.cybertouch.com

Contact