Ralph J. Anderson, CPA Recognized by National Alliance of Male Executives-N.A.M.E.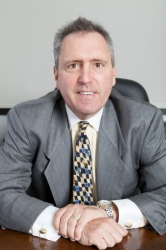 Monmouth Beach, NJ, September 05, 2014 --(
PR.com
)-- Ralph J. Anderson, CPA of Monmouth Beach, New Jersey has been recognized by the National Alliance of Male Executives-N.A.M.E. for his outstanding contributions and achievements in the field of tax and financial services.
About Ralph J. Anderson, CPA
Mr. Anderson is the Managing Partner of The Green Group, a tax and financial services consulting firm in Woodbridge, New Jersey. With over 25 years of experience, he is responsible for personal and corporate tax planning, life insurance planning, investment partnerships, hedge-funds, broker/dealer, mergers and acquisitions, preparing projections, high net worth individual tax planning and multi-generation family owned businesses for investment, tax, financial, estate and trust, estate and financial planning. He also has industry expertise in real estate. Along with his responsibilities at The Green Group, Mr. Anderson is a Member Owner of Lexington Advisors and Lexington Capital Management LLC which provide insurance and tax advisory services to a wide array of clients. He is a licensed Certified Public Accountant in New York, New Jersey, Massachusetts and Florida. He also has his license for Life and Health Insurance. Previously, Mr. Anderson served as a Partner at EisnerAmper LLP from 1996-2001, Senior Executive Vice President at Neuberger Berman from 2001-2004, Partner at Grant Thornton from 2006-2009 and Partner at Friedman LLP from 2009-2010. He is on the Board of Trustees at Rider University and the nonprofit Wildcat Academy and is affiliated with AICPA, NYSSCPA, NJSCPA, FSCPA, NASDQ and AMA. He was recently honored by Rider University and the Friends of James Joyce. He has been recognized by Who's Who in America, The World Biographical Hall of Fame and Personalities of America. Mr. Anderson co-authored two articles: "How A Cost Segregation Study Can Pay For Itself And Save You In Taxes" and "How Can An Individual Better Position Themselves To Obtain Financing While Saving Tax Dollars" for the Mid Atlantic Real Estate Journal in 2013. He has also written many articles, conducted lectures and speeches in his field. In addition, he is the Co-Host of the Entrepreneur CEO Show, a weekly national radio program which interviews top CEOs from around the nation. Mr. Anderson was born in Mount Vernon, New York and earned his B.S. in Accounting at Rider University and his Masters in Taxation at Seton Hall University. In his spare time, he enjoys golf, reading, charitable endeavors and family activities.
About National Alliance of Male Executives-N.A.M.E.
N.A.M.E.® is a unique online association for male executives and professionals in all industries. This premium service and alliance recognizes male professionals who have achieved success as well as those looking to further their careers and expand their business opportunities by providing networking, advertising, marketing and entertainment services. For more information about their unique services and testimonials, visit their website at www.name-exec.com or email them at info-name-exec.com.
Contact
N.A.M.E.-National Alliance of Male Executives
Katherine Koop
516-272-4494
www.name-exec.com

Contact