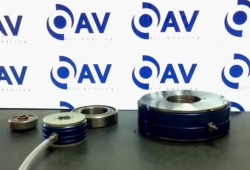 Princeton, NJ, September 05, 2014 --(
PR.com
)-- OAV Air Bearings have emerged as a very important element to precision technology. Many questions and concerns arise when determining how to implement air bearings to an existing unit. OAV Air Bearing has a solution.
OAV Air Bearing brought Roller Air Bearings into the market. This is the most convenient of all rotary air bearings. Perfect for spindle applications or any application which requires smooth and precise rotation.
OAV Roller Air Bearings are unique and the only product of its kind. The Patent Pending product is designed to fit exactly the same way as a standard roller bearing would – the same size and very simple light press-fit method of installation. This makes it very easy for a direct replacement, eliminating the need for costly installation.
OAV'S innovative design includes an all-in-one package with the core air bearing and face collars in one product. Therefore, the air bearing is already pre-aligned and tuned for maximum performance.