Wealth DNA Radio Show Discusses MyRA's and GRA's vs IRA's and 401(k) Plans with Teresa Ghilarducci, PhD on September 22, 2014 at 9:00 AM PDT
The Wealth DNA radio show will have Teresa Ghilarducci, PhD as the featured guest on September 22, 2014 at 9:00 AM PDT (12 noon EDT). The interview will focus on MyRA and GRA vs. IRA and 401(k) plans.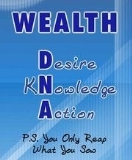 Buckeye, AZ, September 19, 2014 --(
PR.com
)-- The MyRA (My Retirement Account) was just announced during the 2014 State of the Union address, as a new vehicle for retirement saving. A key feature is that participants will invest in the Guaranteed Retirement Account (GRA) which is currently only available to government employees. Prof. Ghilarducci is an author, researcher and the primary architect of the GRA's and espouses a mandatory pension contribution. The MyRA appears to be the first step in implementing a plan to have retirement plans fund the growing US deficit.
Ghilarducci's critics call her the "the Most Dangerous Woman in America" due to her criticism of 401(k)'s and IRA's which invest in the financial markets. Prof. Ghilarducci proposes replacing them with government run plans which would potentially divert Trillions of US dollars from Wall St. to the federal coffers.
The Wealth DNA show's mission is to help listeners Live the American Dream, and help one million people become millionaires. The host will focus the discussion on whether the MyRA's and GRA's help or hinder that mission.
The Wealth DNA Radio Show airs the 2nd and 4th Monday of each month at 9:00 AM Arizona Time discussing a wide variety of financial topics with industry experts. Learn more or listen to past show archives and see the topics of upcoming shows at www.WealthDNA.us. Connect with the show on Facebook at www.facebook.com/WealthDNA or Twitter @TheRonald.
Contact
Wealth DNA radio
Ron Nawrocki
602-904-5626
www.WealthDNA.us
Quickest is via e-mail

Contact