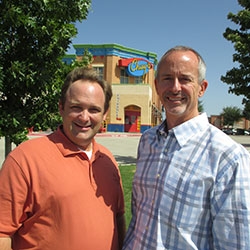 Dallas, TX, September 30, 2014 --(
PR.com
)-- Ranger Retail Partners, a Dallas based company specializing in retail tenant representation, announced they have been selected by Texas-based restaurant chain Chuy's to assist in acquiring new real estate in Texas, Arkansas, Oklahoma, Missouri, Kansas, Nebraska and Iowa.
Chuy's opened its first restaurant in Austin, Texas in 1982 and now operates 57 locations throughout the U.S., with more opening soon. In 2012, Chuy's went public, and since has developed an aggressive growth plan throughout the Southeast United States.
Geoff Henrion, president of Ranger Retail Partners, stated "We are very excited about assisting with the Chuy's roll out their new locations. Chuy's is looking to expand its presence throughout the U.S., and we are looking forward to being a part of its growth."
"We are looking forward to team up with Ranger Retail Partners and Geoff Henrion to accomplish our commercial real estate goals," added Don McKechnie. "I have worked with Geoff for almost 15 years and know that he will be an integral part of our development team. At Chuy's we always say when you've seen one Chuy's, you've seen one Chuy's. Each restaurant has its own unique feel, and its important to work with somebody that will help us find the perfect location for the individual restaurant, not the chain as a whole."
Chuy's is not the traditional Tex-Mex restaurant. The chain is known for its colorful decoration, eclectic atmosphere and annual events, including a birthday celebration for legendary recording artist Elvis and a Green Hatch Chili Festival.
Henrion continued, "Chuy's customers are a diverse group, and finding just the right location for each new restaurant is key. I have been in the commercial real restate industry for 26 years and have worked through the U.S. I know I have the experience and professional relationships necessary to help get the job done."
About Ranger Retail Partners – Founded in 2010 by Geoff Henrion, Ranger Retail Partners if a full service retail real estate company specializing in representing tenants who are opening multiple stores in major and secondary markets across the country.