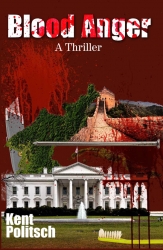 Hanover, MD, October 06, 2014 --(
PR.com
)-- The young and unpredictable military leader of North Korea is placed in the crosshairs of an assassin's scope at the Great Wall of China. The killing attempt points to the CIA and President Harris O'Neil. A revenge plot unfolds aimed at Secret Service vulnerabilities. The president's teenage daughter, Bibi, the victim.
A brief and flirtatious encounter with 17-year-old Baltimore superstar athlete Dante Brown the night Bibi is abducted offers Homeland Security a surprising clue. But is it enough to unravel the mysterious kidnapping, the identity of the abductors, and the reason behind the revenge?
Author novelist Kent Politsch sends his readers on a new adventure with federal bureaucrat Jack Fitzgerald and his team of teenage basketball players. "Blood Anger" releases Dec. 1, 2014. The eBook will be available through all major Internet retailers for $2.99; a $12 paperback available at http://www.kentpolitsch.com.
Jack Fitzgerald, an enigma himself with a history of secret foreign missions, is about to start his second season as volunteer AAU coach of a team from Baltimore. He takes over the team from his long-time friend Rodney Armstrong. Armstrong, a retired Baltimore cop, has undergone a heart transplant. He is unable to continue coaching the PAL All-stars. (PAL, the acronym for Police Athletic League.)
Armstrong, the PAL stalwart, is still regarded as a top cop. His young athletes seek his help when they uncover evidence the FBI hasn't found. Armstrong's first call is to Fitzgerald, the agriculture administrator with federal lawmen connections.
While the young vigilantes search for the president's daughter, Politsch takes the reader deep into the Caribbean where the Chinese Navy cross the Panama Canal on a mission that gets the U.S. military's attention. The Chinese stop at Curacao, a Dutch island 50 miles north of Venezuela. They connect with Jack Fitzgerald's familiar foe, Korean billionaire Pak Yong-sung.
Suspense escalates when seemingly disparate events complicate President O'Neil's stressful decisions. With the world's leading security force combing Washington, D.C., for his daughter, Fitzgerald, Armstrong and the young basketball team, led by Brown, stay passionately involved in the drama. So do Pak Yong-sung and the Chinese Navy.
Blood Anger is the second of Politsch's novels involving Fitzgerald, the eclectic team of teenagers and their distant nemeses, Pak Yong-sung and Global Anchor. The author's first thriller, Global Anger, was released in 2012 to five-star praise. ForeWord Reviews' Jill Allen called Global Anger a compelling thriller. "The dialogue is powerful and realistic… the variety of players and theaters of action help to ramp up the suspense…"
Global Anger also is available in ePub, .Mobi or .pdf formats for $2.99 at http://www.kentpolitsch.com. Preview chapters are available free at the website. Qualified reviewers may receive complimentary copies by contacting the author at kpolitsch4@gmail.com.