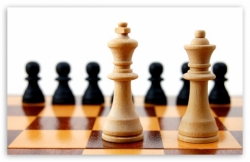 Dallas, TX, October 08, 2014 --(
PR.com
)-- "VIZMATRIX New Interactive Strategy Visualization & Next-Gen Business Intelligence Cloud is a game-changing disruptive application that will put many companies on their heels," says Nancy Hopkins, VIZMATRIX Founder and former IBM Director of Corporate Business Intelligence.
VIZMATRIX provides company, customer, prospect, competitor and partner relationships all on a single screen. No more endless searches in CRM systems and databases one record, company or contact at a time.
"It's the upper tier interactive visual strategy piece that all CRMs are missing. It connects the dots and shows users multiple relationships between multiple companies and people on a single screen in a very unique way," says VIZMATRIX Founder and CEO Nancy Hopkins.
VIZMATRIX Founder continues, "It will show you what you may know, and even more about what you don't know. Imagine a system that has access to data for over 82M companies 'current and former' board members, executives, employees, titles, skills, salaries, universities they attended, degrees, political affiliation, committees or associations they're affiliated with, hobbies and family members' professions. And, VIZMATRIX updates all this data, including job and board member changes, automatically."
"Imagine how it can be used in sales and business development. If you knew how many executive relationships your company has with its customers, prospects, partners and third parties, and also knew the executive relationships each of your competitors have with your customers, prospects, partners and third parties that they may leverage against you on any given deal, this would be a powerful tool. Right?" says VIZMATRIX founder and CEO.
VIZMATRIX, LCC is a Las Colinas, Texas-based software, systems and services company. It's management team has over 30 years experience in the high tech industry. For more information about VIZMATRIX, go to www.vizmatrix.com