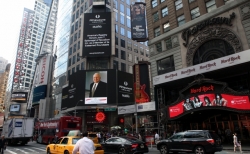 Farmingdale, NY, October 17, 2014 --(
PR.com
)-- John T. Spitznagel was born in Auburn, New York. He earned his B.S. in English at Rider University and his M.B.A. in Marketing at Fairleigh Dickinson University. Currently, he is the Chief Executive Officer of NovaSom Inc.,
www.novasom.com
Mr. Spitznagel's illustrious career began as Chair and CEO of Esprit Pharmaceutical, then Chair and CEO of ESP Pharmaceutical. He continued on to become CEO of Roberts Pharmaceutical, President of Reed & Cormick Pharmaceuticals, a division of Block Drug Company, CEO of Biocryst Pharmaceutical Company and then Senior Vice President of Marketing and Sales at Wyeth Labs. Mr. Spitznagel later became Marketing Director of Roche Labs, a division of Hoffman LaRoche, Product Manager and Sales Representative of Warner Chilcolt Labs, a division of Warner Lambert. Mr. Spitznagel's honors and awards include Entrepreneur of the Year 2005 and 2010, Top 50 Best Companies to Work For, 2004, ESP and Winner of the Direct Marketing Association Best Direct Mail Campaign. His leisure time is spent swimming, fishing and sailing.
America's Registry is proud to feature John T. Spitznagel on the home page of our website. It includes photographs of his Times Square appearance along with an instructional video of AccuSom which is a product of NovaSom Inc. This is a program that is held for our most esteemed and accomplished members, in this case John T. Sptiznagel.