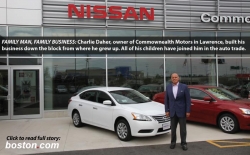 Lawrence, MA, October 24, 2014 --(
PR.com
)-- People told Charlie Daher he was crazy when he bought an eight-acre Chevrolet and Nissan dealership in Lawrence in 1991, just after the financial climate forced its closure. Today, that dealership, Commonwealth Motors, has gone from eight to thirty acres and from two to five brands.
Commonwealth has more than 300 employees and a 1,000-car inventory that draws customers from all over New England. Thanks to "a lot of hard work and a little luck," Daher says, Commonwealth has become an institution in Lawrence; it has also allowed Daher to generously give back to the community in which he grew up.
Daher got started in the car business right out of college. He had no shortage of ambition but not much in the way of ready cash. Both his drive and his circumstances forced him to change that. "I had three children at the time and a fourth one on the way," recalls Daher, "so I needed to make some money and do it quickly. I had heard that you could do that selling cars, so I started right on the floor as a salesman and worked my way up from there. I was hooked. My dream, of course, was to own my own dealership. That was my goal. And what better dealership to own than the one that we're in today?"
Daher takes pleasure in owning this particular dealership because he grew up just 100 yards down the road. He and his friends used to jump the fence and play in the lot when the dealership was closed on Sundays. To now own that lot and to have turned it into a thriving business is an especially personal source of pride.
After some years of working for other dealerships, Daher saw an opportunity during the savings and loan crisis of the late 1980s and early 1990s. The familiar dealership from his youth had been taken over by the bank, followed by the FDIC. It was troubling news in Lawrence, but Daher notes that "in certain circumstances, one person's mishap can be someone else's great opportunity, so I jumped through all the hoops I needed to and acquired that dealership. I had never done this before, of course, and just about everybody told me I was crazy and that we wouldn't fare any better than the previous owners. But now we've grown and grown and I've been blessed twice because all of my kids are involved in the business."
We hear the term "family business" thrown around quite a bit these days, but there is no doubt that it applies to Commonwealth Motors. Daher adds that "I have four children, and even though I never forced it on any of them, all four are involved in the business. Even better than that, all of their spouses are involved as well, and it even feels like many of my employees are family because so many of them have been with us right from the beginning. I feel very lucky to have them."
Commonwealth Motors started out selling Chevrolet and Nissan, but has since expanded to include Honda, Kia, and Volkswagen. Having such a diverse range of brands can be challenging given all of the changes and updates with each, but Daher says that having a range like this also has its advantages. "The car business is very cyclical. It's good to cover the highs and the lows. When one brand is having a hard time, others can be doing just fine, so with a range like this we can know that we've got it covered," he explains.
With almost 25 years as owner and plenty of time before that in the car business, Daher has seen many changes, the biggest of which is in the service end of things. "It used to be that you would just sell a car to someone and that would be it. Now, the business is so competitive and you make so little markup on selling a car, you really want to develop a serious relationship with that customer and have that customer for life so that they buy a car from you, service their car with you, and buy their next car from you after that."
As for the sales side of it, he says, "It's a challenge, but it's my favorite part of this. We're not afraid of our prices, so we encourage customers to shop around and compare. That's where our 'Shop Us Last' slogan came from and it has been our general approach." It seems to be an approach that works, as about 35 percent of their business is repeats or referrals.
Commonwealth's successful formula has also allowed Daher and the dealership to establish an admirable relationship with the City of Lawrence and its people.
Having grown up in Lawrence and attended public school there, Daher seems to take as much pride in giving back to the community, especially kids, as he does in running a successful business.
"We do a lot of little things like pay for computers and field trips, but this month we have our Kid's Cancer Buzz-Off and in December we have the second annual Commonwealth Motors Christmas Classic, a boys and girls high school basketball tournament with 16 teams," Daher says. "After the tournament, one deserving player on each team gets a $1,000 college scholarship. I can't stress enough how much we're involved in the city, and we really enjoy doing it." Lawrence City Council has appreciated the dealership's involvement so much that they named the street outside the dealership Commonwealth Drive.
Commonwealth Motors is the only car dealership in Lawrence, and though many thought that it would last only 90 days, it has continued to grow and thrive in what is an incredibly competitive market. With the total involvement of his family and a commendable relationship with the community around him, Charlie Daher has a lot to be proud of.
His favorite part about selling cars, though, is still what got him into the business in the first place. "I love a challenge," he explains. "It's what kept me going when I started and it's still my favorite thing about working here. You find challenges in every corner of this business, and I love that."