AlgoTrades Automatic Investing System Selected Advanta-IRA for Managing IRA, Roth IRA and 401K Accounts
This automatic investing system selects primary self-directed IRA firm.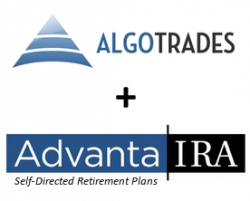 Chicago, IL, October 31, 2014 --(
PR.com
)-- AlgoTrades has selected the nation's premier self-directed IRA administer - Advanta IRA as the primary firm to handle IRA, ROTH IRA, and traditional 401K accounts for their
automatic investing system
.
Advanta IRA ensures all elements of the administration of clients accounts are performed properly and in compliance with Internal Revenue Service rules and regulations. They file reports on the client's behalf, issue statements and help you follow contribution limits and permissible transaction guidelines. Clients are able to focus on the more important task of identifying promising investments to add to your portfolio.
"Combining Advanta IRA's excellence in self-directed IRA investments and 25 years of experience in the industry, and our automatic investing system I believe we will continue to be at the forefront of the investment industry and the brand name investor's trust.
"This is a huge step forward for our clients and individual investors as a whole. Being able to shelter investment gains from being taxed each year greatly increases the potential growth of our clients accounts going forward," stated Chris Vermeulen, AlgoTrades CEO.
AlgoTrades is intended for all investors; the new investor looking to make a first investment or the seasoned investor who has been trading for decades who are looking for a portion of their investment capital to be actively invested in a way.
It requires absolutely no work on the investor's part other than initial setup. All automatic investing trades are executed automatically in the clients brokerage account.
The investment strategy has been traded manually by the creator Chris Vermeulen for the past seven years and was converted into an automatic investing system in 2013. It invests in the S&P 500 index though the use of ES mini futures and ETFs.
"This is an automatic investing system that provides investors with an opportunity to invest alongside the founder, capitalizing on my entrepreneurial investment approach, trading strategies, money management skills and experience," stated Chris Vermeulen, AlgoTrades Founder.
AlgoTrades charges an annual fee for access to the automatic investing system. A $35,000 minimum investment capital is required.
Advanta IRA is not a Fiduciary and does not endorse any investment product or give investment advice.
Contact
AlgoTrades Systems
Chris Vermeulen
1-844-692-5468
www.AlgoTrades.net

Contact