Live Dog Demos Highlight The World's Largest Dog Training Company's Annual Conference & 25th Anniversary Celebration in San Diego
Bark Busters celebrated its 25th anniversary with trainers from all over the world, including special training, demonstrations and a charitable event for "The Rescued Dog."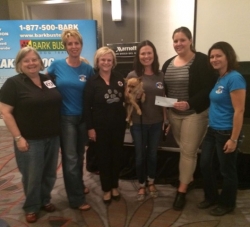 Escondido, CA, November 10, 2014 --(
PR.com
)-- Danny & Sylvia Wilson, Founders of Bark Busters, the World's largest in-home dog training company wrapped up their 25th Anniversary celebration during the company's annual conference that took place on October 29 & 30 in San Diego. Nearly 200 International Bark Busters dog behavioral therapists & trainers attended the event from the U.S., England, Canada, Spain, New Zealand and Australia.
Sylvia Wilson who co-founded Bark Busters with her husband Danny in Australia in 1989 said, "In 25 years this network of dog behavior therapists have trained over 1 million dogs. This conference gave us the opportunity to celebrate that milestone and the success of our mission to save the lives of dogs who would otherwise be surrendered to shelters and euthanized due to unwanted behavior that we know our system can fix."
The two day event allowed Bark Busters trainers from around the world to interact and learn from one another while attending workshop sessions which included presentations on Best Practices from the company's global top performers, hands on dog handling demos and real-life case studies, an awards banquet, seminars on Marketing, Media and web presence, and some fun events including a doggy obstacle course. A fund raiser benefiting 'The Rescued Dog', a San Diego based animal rescue organization also collected more than $1300. at the event. The rescue group was grateful for Bark Busters generous donation as the funds raised helped cover the expense for a much needed operation on one of their rescue dogs.
Presenters at the event included vendors like Scott Shahidi, CEO of Vetalogica pet products who traveled from Australia to announce the launch of the company's products, proven to be effective in complimenting behavior modification. Guest speakers were also present, including Veterinarian Dr. David Randall of Big Cypress Animal Clinic in Naples Florida who addressed the Veterinarian/Dog Behavior Therapist relationship, and Connie Thanasoulis, Co-Founder of SixFigureStart who provided valuable career coaching and business development advice to the group.
Bark Busters Co-founder Danny Wilson said, "This gathering of some of the best dog trainers from around the world gave us the opportunity to keep our network of behavior therapists at the top of their field with the latest ideas in understanding dogs and modifying their behavior, as well as handling the dog owners/people and business side of the business to ensure their success."
About Bark Busters:
Bark Busters, the world's largest, most trusted dog training company, started in Australia in 1989 and came to the United States in 2000. Since inception, more than 1 million dogs have been trained worldwide using its dog-friendly, natural methods. With 180 franchised offices in 40 states and more than 350 offices in 8 countries, Bark Busters is continuing its mission to build a global network of dog behavioral therapists to enhance responsible dog ownership and reduce the possibility of maltreatment, abandonment and euthanasia of companion dogs. Bark Busters is the only international dog training company that offers guaranteed lifetime support. To fetch a trainer in your area, call 1-877-500-BARK (2275) or visit
www.BarkBusters.com
where dog owners can complete a Dog Behavioral Quiz to rate their dogs' behavior.
Contact
Bark Busters Home Dog Training
Cindy Smith
903.896.4988
www.barkbusters.com

Contact