David G. Johnson Returns to Form with "Paryn's Gold"
Author says book is "the crowning jewel of the trilogy."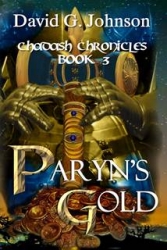 New York, NY, November 10, 2014 --(
PR.com
)-- Much to the delight of his fans, David G. Johnson didn't take too long to release Book Three and the last in the series, "Paryn's Gold" (Faith X Fiction Press, 2014). The book is the thrilling conclusion to the Chadash Chronicles.
"David is our only author, and one of but a few in the world, who has created a triology of this kind. It entertains both Christian readers who prefer fantasy without the darker elements, and pure, epic, fantasy readers who may not be Christians, but enjoy great adventure stories," stated Fran Briggs, eMediaCampaigns!' Director of Operations.
"I come from a generation of readers that loved classic fantasy, worthy heroes, and discernable villains. I pour a great deal into building a three-dimensional world, and realistic, in-depth characters for both the heroes and the villains," says Johnson. "I wanted readers who loved the stories I loved growing up to have that feeling again."
The author says that readers who have read Book One and Book Two will have a much deeper understanding of the details of the events leading up to "Paryn's Gold." And, readers beginning their Chadash Chronicles adventure with his third book will not feel as if they're missing something.
"'Paryn's Gold', while continuing some elements of the story-arc begun in Book One: "Fool's Errand" and Book Two "Mystic's Mayhem," is actually the most standalone capable of the trilogy," Stated David G. Johnson.
"Paryn's Gold" is available on Amazon in both ebook and print format.
Product Details
Series: Chadash Chronicles
Paperback: 406 pages
Publisher: Faith X Fiction Press (October 26, 2014)
Language: English
ISBN-10: 0692319751
ISBN-13: 978-0692319758
Product Dimensions: 6 x 0.9 x 9 inches
Shipping Weight: 1.5 pounds
About David G. Johnson
David G. Johnson is an author and teacher with a B. A. in Asian Studies and a MDiv in Biblical Languages. He currently resides overseas with his family serving as teachers and living witnesses of their faith. David has been an avid Fantasy and Science Fiction fan for more than 30 years. He utilizes his cross-cultural experience to blend Fantasy fiction with a biblical world view in this new series which mixes Fantasy storytelling elements with personal spiritual journey elements.
Contact
eMediaCampaigns!
Fran Briggs
206.279.0818
http://www.franbriggs.com

Contact