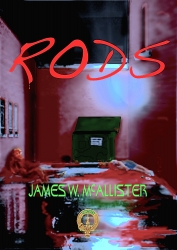 New York, NY, November 17, 2014 --(
PR.com
)-- The Novella "RODS" will be released 12/10/14 by Fortiter Publishing LLC. RODS is an enjoyable, tongue-in-cheek story of a New York City homicide detective thrown into the crossfire between Good and Evil.
NYPD Detective John Martin is an average cop.
His ex-wife hates him.
He can't please his boss.
His ex-partner hates him.
Criminals hate him.
Pretty average. But then again...
His partner is perfect.
And he has a gift.
Captain John Martin sees crimes. But only when he's at the crime scene, and only after they happen. He and his partner have used this gift to solve every murder assigned to them.
That's almost enough to please their boss.
But what John sees this night changes everything.
Fortiter Publishing is pleased to announce the release of the Paranormal Detective story "RODS" on December 10th 2014.
"RODS" is now available for pre-order at http://www.amazon.com/dp/B00PPH8UJQ. See fortiterpublishing.com for further details.