SEMPO San Diego Launches with Inaugural Event
Content Marketing Platform, ClearVoice, Sponsors SEMPO San Diego Special Event on Dec. 3.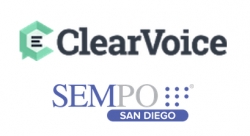 Phoenix, AZ, November 25, 2014 --(
PR.com
)-- The largest nonprofit trade organization in the world serving the search and digital marketing industry and marketing professionals, SEMPO announced today the formation of a San Diego Local Group. The San Diego chapter will host an inaugural event to welcome new and potential members.
With local groups across Canada, Europe and the U.S., SEMPO is commemorating the launch of their San Diego chapter with an evening of networking, mingling and education. Co-CEO of ClearVoice and featured presenter, Joe Griffin, will provide an interactive overview of the current state of the industry. The event will take place on Dec. 3 at the Horton Grand Hotel San Diego from 6:00 to 8:00 p.m. The event is free to SEMPO members and $15 for non-members.
"This is a very exciting time for the industry, and we are thrilled and honored to have established a local chapter to serve the San Diego digital marketing community. We thank ClearVoice for making this initial event possible and we aim to expand the chapter by adding new sponsors, members and partners," said Andrew Bart, Local Group Chairman of SEMPO San Diego.
For more information or to register for the event, visit:
http://cvco.co/1zRXYm9
About SEMPO
SEMPO is a global non-profit serving the search and digital marketing industry and the marketing professionals engaged in it. Its purpose is to provide a foundation for industry growth through building stronger relationships, fostering awareness, providing education, promoting the industry, generating research and creating a better understanding of search and its role in marketing. SEMPO includes thousands of professionals across 50 countries. The organization's mission is to represent the common interests of companies and consultants worldwide and provide them with a voice in the marketplace. For more information or to join the organization, visit www.SEMPO.org.
About ClearVoice
ClearVoice is a content marketing platform that powers connections, collaborations and creativity for the new content economy. With a combination of proprietary technology, network of authoritative content creators, and professional services, ClearVoice propels content marketing campaigns. ClearVoice is a privately held company headquartered in Phoenix, Arizona. For more information or to request a demo, visit
www.clearvoice.com
.
ClearVoice media contact:
Charlotte Park
cpark@clearvoice.com
SEMPO San Diego event contact:
Andrew Bart
andrew@popresults.com
Phone: 480.442.4860
Contact
ClearVoice
Charlotte Park
480-378-6703
clearvoice.com

Contact