Devo Spice Podcasts New Comedy-Rap Album
Devo Spice's new album of comedy-rap songs Herp Derp Ya Don't Sterp is being podcast one song per day at http://www.TheInsiderPodcast.com.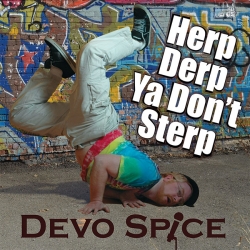 Trenton, NJ, November 26, 2014 --(
PR.com
)-- Devo Spice's new album of comedy-rap songs Herp Derp Ya Don't Sterp will be available on December 2nd but fans are getting an early peek at the album via a daily podcast. Starting on November 17th Devo began podcasting one song from the album each day on his usually-monthly podcast The Insider. The podcast will continue daily until the album's release on December 2nd. To listen to the show visit
http://theinsiderpodcast.com
.
Herp Derp Ya Don't Sterp is Devo Spice's third solo album following 2011's Gnome Sane and his special Doctor Who concept album I Am The Doctor which was produced for the show's 50th anniversary. The album will contain 16 tracks of comedy-rap songs including "In The 80s," a tribute to Devo's defining decade, and "Autocomplete," a song about the Google search feature. Both of these songs were nominated for Outstanding Original Comedy Song in the 2012 and 2013 Logan Whitehurst Memorial Award for Excellence in Comedy Music, respectively.
Herp Derp Ya Don't Sterp will first be released on Bandcamp where Devo is directing all his fans to buy it on launch day with a special promotion. Anyone who buys the album on Bandcamp on December 2nd will get an additional album of B-sides and bonus tracks called Ermahgerd! Bernis Trrrks! for free. The bonus CD contains an additional 16 tracks and 45 minutes of music.
To take part in the special album promotion go to http://devospice.bandcamp.com on December 2nd.
Additionally Devo is having a special release concert at The Championship Bar in Trenton, New Jersey. The show is December 12th and tickets are available on his web site http://www.devospice.com. He has promised to bring cupcakes.
Contact
Devo Spice
Tom Rockwell
201-317-2732
www.devospice.com

Contact