Yahoo! Music Debuts First Single "Hearts and Minds" from Lotus Crush's Upcoming New Album Rabbit Hole
Band Offering Access to New Music, Merchandise; Unique Experiences and More at PledgeMusic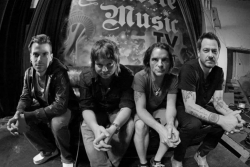 Los Angeles, CA, December 08, 2014 --(
PR.com
)-- Today, Yahoo! Music debuted "Hearts and Minds," the first single from Lotus Crush's upcoming album Rabbit Hole. The track, which will be released commercially in January 2015, puts the band's electrifying blend of melodic hard-edged rock front and center. Listen to the premiere of "Hearts and Minds," at Yahoo! Music.
Lotus Crush frontman Terry McDermott explains, "'Hearts and Minds' is about what I see as the constant battle between our senses and the ever-oppressive world around us. Political slogans, giant corporations, the darker side of government and consumerism, the bombardment of our senses in the digital age. We are pushed and pulled every minute of the day and we somehow must remain self-aware and just be human beings. Whether we know it or not, we are in a war for our hearts and minds constantly."
Lotus Crush is Scottish singer McDermott (runner-up of The Voice 2002, Driveblind), guitarist Peter Klett (Candlebox) and drummer Scott Mercado (Candlebox). The band's evolution began on the road in 2006 when Driveblind toured Europe with Candlebox. While on tour, the artists shared a love of seminal British bands such as The Verve, Pink Floyd and Led Zeppelin and sowed what would be the seeds of a long-lasting relationship. The common influences of the band spurred the creative process and from their respective corners of the world (Seattle, Aberdeen and New Orleans) they went on to release their first project together, Half Light Morning in 2009. Lotus Crush's sophomore album, Rabbit Hole, is slated for release in March of 2015.
The band's current PledgeMusic campaign which was designed and managed by Skyrocket Ent., has been extremely successful, surpassing its goal by nearly 100%, though the band continues to offer fans new music, unique items and updates at pledgemusic.com/projects/lotuscrush. Says McDermott, "I'm grateful for the deeply passionate support my fans have shown. They've stuck with me and they're showing it with our Pledge campaign... We've done tremendously well so far and the better we do, the more we can achieve... I'm incredibly fortunate to have so many people believe in us."
Contact
Skyrocket Ent
Kevin Day
818-817-0895
www.skyrocketent.com

Contact