Holiday Shopping More Stressful for Men Than a Trip to the DMV: Gift Toad Simplifies the Process
78% of men say that holiday shopping is more stressful than going to the DMV according to a study done by the National Retail Federation. A new website called Gift Toad offers shopping help for men.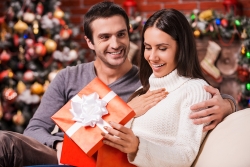 Littleton, CO, December 15, 2014 --(
PR.com
)-- 78% of men say that holiday shopping is more stressful than going to the DMV. That's according to a study done by the National Retail Federation. "For men, the task of buying a gift for a significant other can be daunting," says Chip Brunk, Founder and President of Gift Toad, a new website that provides shopping help for men.
Men that Brunk spoke with listed a number of different factors that contribute to their shopping stress including not knowing what she might want and a general dislike for shopping. As a result, they oftentimes end up waiting until the last minute, further adding to the stress.
In addition, the gifts that men purchase aren't always well received. Brunk admits he has some embarrassing gift-giving stories of his own. "I bought my wife a vacuum cleaner because I thought the self-propel feature was cool. My wife thought I was trying to tell her she needed to clean more. I've learned that buying a bad gift can be interpreted as being insensitive and can lead to bigger relationship issues." Relationship experts agree that meaningful gift-giving can be an important ingredient in a romantic relationship.
Based on his experiences and those of other men he knows, Brunk launched the company to provide help for men who struggle with shopping. Gift Toad's team of editors sift through millions of products from their partner retailers and hand-select only appropriate gift items they think women would appreciate receiving. The editors provide tips and comments on many of the items as well as gift-giving advice to help make the shopping process easier and less stressful for the customer.
Brenda Staab, Editor-in-Chief at Gift Toad, agrees that there are men out there who need help when it comes to shopping. One woman Staab spoke with shared a story about the time her husband gave her a laptop battery as a gift. "She laughed, and added that he was so proud of himself for installing the battery and even charging it before he gave it to her!" Staab adds, "I think a lot of men really want to give meaningful gifts, but they don't always know where to start."
To learn more about Gift Toad or to pick up a few gift-giving pointers, visit
www.GiftToad.com
.
About Gift Toad
Gift Toad is a website designed to simplify the shopping process for men and to help them find more desirable gifts for their significant others. Gift Toad customers can narrow down their shopping search using a number of parameters including the recipient's category of interest, desired price range, and occasion, as well as more advanced parameters such as customer rating and romantic score. Gift Toad's team of editors provides helpful comments on select items as well as gift-giving advice. Additional site features include a tool to record important gift-giving dates, a gift registry area, and an option to save gifts to solicit feedback from the recipient's family and friends.
Contact
Gift Toad
Brenda Staab
(720) 449-2912 ext. 707
www.gifttoad.com
Chip Brunk
(720) 449-2912, ext 700
chip@gifttoad.com

Contact