Mentor Leaves Revolutionary Legacy of Learning
Mike Hawkins, the inspiring Chicago-based poet, activist, digital media educator and mentor known as Brother Mike who helped change hundreds of young people's lives, died Dec. 3. A public memorial services will be held Dec. 21.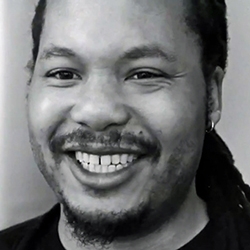 Chicago, IL, December 10, 2014 --(
PR.com
)-- "Mentorship, at its core, is about love."
That was Mike Hawkins' belief, and how he helped change hundreds of young people's lives. Known as Brother Mike, the inspiring Chicago-based poet, activist, digital media educator and mentor died Dec. 3. He was 38.
Born on Nov. 2, 1976, Hawkins graduated from Rich East High School in Park Forest, Ill., and studied at DePaul University. He loved poetry, music, photography, and most of all, empowering young people and adults alike to "turn moments into movements."
Hawkins became one of the most noted mentors in Chicago's youth media scene, fostering the potential of hundreds of youth through his work as coordinator of the YOUmedia Center at Harold Washington Library, a digital teen learning space sponsored by the John D. and Katherine T. MacArthur Foundation in partnership with Digital Youth Network and Chicago Public Library.
"Being a mentor is loving what you do enough to pass that knowledge onto the next person," Hawkins said in a 2012 interview. "For [young people] to say, 'Brother Mike is my mentor,' it's almost code for 'father,' 'best friend'... somebody that's gonna push you to your limits." Called the "heart and soul of YOUmedia," Hawkins was beloved for his kindness, compassion and belief in the possibilities of youth as leaders, activists and innovators.
"Brother Mike's spirit, beliefs, skills, and love powered a generation of Chicago youth who will move the revolution forward," Nichole Pinkard, a co-founder of YOUmedia and associate professor of computing and digital media at DePaul University, posted on Twitter.
Hawkins was inspired by a teacher to pursue his passion for poetry while in high school. In 1999, he co-founded a performance group called POETREE (People's Organized Entertainment Teaching Righteous Education Everywhere) in Chicago, which brought spoken word and hip hop together to venues and communities throughout the city. The group was selected for the Illinois Arts Council's Traveling Artist Roster, creating positive, uplifting material that could inspire and educate. In 2004, the group produced its first album, "Positive Pollution."
Many of the teens who were mentored and inspired by Hawkins credit him for turning their lives around and making a difference in the community. Hip hop artist Fatimah Warner, who attended one of Brother Mike's first YOUmedia poetry workshops at age 18, may have summed up his legacy of mentoring best.
"Brother Mike was a huge influence on who I am today as an artist and as a person," Warner said. "He was a very strong and positive person who believed in me and instilled the confidence I needed to become a hip hop artist. I would not have had all the opportunities I received were it not for him."
Warner, now 23, said that she and scores of other mentees agree that Hawkins "saved many lives."
A self-proclaimed "champion of new media," Hawkins became one of Chicago's leaders in the quest for equity in education, advocating for the use of digital media and technology as a way to foster connected learning and help close the achievement gap.
In a 2013 interview, Hawkins said it was his personal mission to build "learning experiences that incite creativity and active participation." His efforts to amplify the voices of youth and empower them through new media gained prominence as he presented and lectured at educational institutions and nonprofit organizations internationally.
As Constance M. Yowell, director of education at MacArthur Foundation expressed, "it was Brother Mike's smile, open hand, warm hug and deep, deep spirit that captivated young people and adults alike. Indeed a revolution."
Hawkins served as lead mentor and coordinator of the YOUMedia Center at Harold Washington Library for several years. In 2013, he became the manager of informal learning and lead mentor for Digital Youth Network. In September 2014, he accepted a position to help launch a teen multimedia learning space called MetaMedia at the McGaw YMCA in Evanston. The MetaMedia program, scheduled to open early next year, is a partnership between the McGaw YMCA, Youth Organizations Umbrella and Northwestern University, funded by The Lewis-Sebring Family Foundation. The youth-centered digital media program is inspired by Hawkins' visionary work in Chicago's YOUmedia program and will be advanced through the ongoing feedback from Evanston youth.
While he made a lasting impression in the Chicagoland area, youth activists, educators, individuals and organizations throughout the country are mourning his loss.
"I am heartbroken," said Mimi Ito, research director of the University of California Humanities Research Institute's Digital Media and Learning Research Hub. "I have lost a personal hero and a giant in the Connected Learning Revolution. Brother Mike personified what really matters in connected learning: that it's not foremost about the technology, content, skills or achievement. At the core, it's the human connection and the special bond a young person develops with a mentor who really gets and inspires them."
Hawkins is survived by his loving partner, Jacqueline Lazú and two daughters, Yamila Blake-Lazú and Solange Blake-Lazú of Evanston; father Michael Hawkins of Chicago; five siblings, Racediate Paramore, Quedell Paramore, Deborah Hawkins Bashir, Linda Hawkins-Pearson and Michael Anthony Hawkins, all of Chicago. He also is survived by a host of nieces, including Ebony Paramore and Jasmine Paramore, nephews, and other family members, as well as numerous mentees, collaborators and close friends. He was preceded in death by his mother Dorothy J. Hawkins in 2012.
Memorial services are open to the public:
Funeral Services, Wednesday, Dec. 10
Second Baptist Church, 1717 Benson Avenue, Evanston 60201
Viewing: 11 a.m.-Noon
Services: Noon-2 p.m.
Celebration of Life, Sunday, Dec. 21
Little Black Pearl Workshop, 1060 E 47th St, Chicago 60653
2-8 p.m.
An ongoing tribute celebrating Hawkins' life is being compiled on Storify. Tweets and Facebook posts, using the hashtag #BrotherMike can be viewed there.
A scholarship fund in honor of "Brother Mike" Hawkins is being established. For more information or to learn about contribution opportunities, email info@digitalyouthnetwork.org.
Media Contact:
Mimi Ko Cruz, mcruz@hri.uci.edu, 949-824-4587
Full DML and CLA tribute and photos: http://dmlhub.net/newsroom/media-releases/mentor-brother-mike-leaves-revolutionary-legacy-learning
Contact
DML Research Hub
Mimi Ko Cruz
949-824-4587
dmlhub.net
DML Research Hub is part of the University of California Humanities Research Institute.

Contact