RaDaQuin Music Group, LLC Announces the Release of "Somewhere Over the Rainbow" by Dwayne D'Mac McMillan
Special Thanks to: Charles Pettaway: Composer, Producer, and Arranger; Alvin Speight: Mixing and Engineering; Shena Renee: Vocals; Many Thanks to Carrol Paryo of CRMG studio: Recording of Vocals and Ending Guitar Parts; Rhonda Franklin, Southern Gurl Media LLC: Mass Media; DRhodes: Graphic Designer.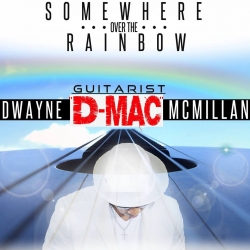 Atlanta, GA, January 07, 2015 --(
PR.com
)-- Step in the world of Guitarist Dwayne D'Mac McMillan with his upbeat, beautiful and powerful rendition of Harold Arlen, E.Y. Harburg, and Judy Garland's, "Somewhere over the Rainbow!" Dwayne's reenactment of this cover song came from his mind, body and soul. He wants to take you on a journey, where you can truly see somewhere over the rainbow, and its treasures. Close your eyes and vision others reaching their dreams and aspirations. For example, unity between police officers and black youth, no more black on black crime, and churches going back to the old landmark with no political agendas. Imagine the world with no racial divide, with a new meaning of liberty and justice for all…. People all over the world would be free from vices used to suppress them from reaching their dreams. The Rainbow's treasures of Love, Joy, Understanding, and Peace would belong to all humanity.