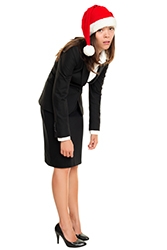 Asheville, NC, January 08, 2015 --(
PR.com
)-- Once again, the holidays have wound down and winter is upon us. Too often, people feel unhappy following the holidays. The child inside may whine, "I didn't get what I wanted, the parties weren't fun, being with relatives is hard, and now I have all these bills to pay. Plus, taxes are looming, and what about that fine for not signing up for health care?"
Dr. Frank King, a doctor of naturopathy and chiropractic with nearly 40 years' experience in natural healing, offers help. He explains that unrealistic holiday expectations often lead to emotional letdowns and even physical ailments. Since the holidays coincide with wintertime, the extra stresses of travel, late nights with parties and feasting, combined with potential reductions in immune system functioning, often result in maladies such as head-colds, sleeplessness, digestive upsets, and stress headaches.
In addition, many suffer from annual seasonal affective disorder (SAD), feeling gloomy as the days grow longer and darker. Lack of sunlight negatively affects SAD patients' biorhythms and biochemistry, and their mental and even physical health suffers.
Dr. King, author of The Healing Revolution, offers these five tips to combat the post-holiday blues naturally:
1. Move. Try to get outside for natural sunlight each day. Even better, sidetrack isolation by joining others for exercise or a walk. Not only will the exercise releases endorphins that help you feel better, but sunlight also helps your body make melatonin, a hormone needed for proper circadian rhythm and sleep. Investigate whether or not a full-spectrum light might be helpful.
2. Sleep. If you have difficulty sleeping six or more hours per night, limit your on-screen time before bed. Keep electronics out of your bedroom – create a "sleep sanctuary," and play relaxing music at night to help your mind wind down. Limit or eliminate all caffeine, including chocolate.
3. Nourish. Include nutritious, organic foods in your diet that contain ample amounts of the vitamin B complex, Vitamins C and D, and essential fatty acids. For example, eat foods such as flax seed oil, leafy greens, raw nuts, green peas, lentils, eggs, sweet potatoes, small amounts of healthy lean meat, and salmon. Consider supplements to ensure a steady supply of all essential nutrients.
4. Say "No" to most sweets. Avoid sugar, which is addictive and hides in many foods, including salad dressings, ketchup, alcohol, sodas, and fruit juices. Sugar causes blood sugar spikes and crashes that can lead to mood swings and yeast overgrowth. Artificial sweeteners are not the answer, either. Researchers link artificial sweeteners to adverse brain function. When you crave a sweet, replace unhealthy choices with a piece of fresh fruit.
5. Consider homeopathy. Homeopathic medicine is affordable, safe, natural medicine that has been used worldwide for more than 200 years, and can help with all of the above suggestions.
King should know. Twenty-five years ago, he founded a homeopathic manufacturing company in North Carolina. He was inspired to begin the venture after helping hundreds of patients regain their health after they had previously found no relief with conventional medicine.
"There's no need to suffer," King states. "Homeopathic medicine offers help for everything from relieving pain to correcting indigestion, and improving sleep to enhancing mood."
Through his company,
King Bio
(www.kingbio.com), Dr. King has formulated 500 natural medicines.
"Homeopathy is what I call the 'perfect medicine,'" King says. "It's safe for all ages, has no known negative side effects, no contraindications, is non-habit forming, and has no overdose toxicity. It's all pluses, and no minuses."
Dr. Frank King is the founder and director of King Bio, an FDA-registered homeopathic manufacturing company dedicated to the production of safe, natural medicines without negative side effects. Dr. King is committed to empowering people by sharing his knowledge. His book, The Healing Revolution, offers numerous life-changing tips, including easy hands-on techniques anyone can learn, to achieve optimal health, happiness, and success.