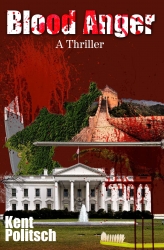 Towson, MD, January 08, 2015 --(
PR.com
)-- Terrorists attack an SUV on the streets of downtown Washington, D.C. It carries Bibi O'Neil, the president's daughter. The bad guys use explosives to stun five Secret Service agents and their passengers. Gunfire follows. Three agents are dead, two in serious condition. The terrorists pull O'Neil from the vehicle and leave her high school basketball teammates injured, frightened and in shock. In less than 90 seconds, President Harris O'Neil's daughter is gone, kidnapped within blocks of the White House setting the stage for the newest thriller, "Blood Anger," from novelist Kent Politsch.
Politsch will be signing "Blood Anger" at Ukazoo Books, 730 Dulaney Valley Rd, Towson, MD, on Saturday, Jan. 24, 2015, from 1:00 to 4:00 p.m. Find Ukazoo Books online at www.ukazoo.com.
The author re-introduces Los Angeles billionaire Pak Yong-sung and his Global Anchor colleagues in a match of wits with federal bureaucrat Jack Fitzgerald. Fitzgerald, along with his long-time friend and former Baltimore cop, Rodney Armstrong, coach a team of teenage basketball players who meet Bibi and her friends earlier in the evening the same night she is abducted. Team leader Dante Brown makes it his new vigilante mission to find the president's daughter. Smitten by the girl, he vows to rescue her.
Politsch takes a predictable theme – boy meets girl – and adds international intrigue, a revenge plot, and makes an assassination attempt against the young military leader of North Korea a strategically planned and unfunny thing.
"Blood Anger" is the second thriller in Politsch's Global Anchor Series. His debut novel, "Global Anger," was published in August 2012 and is available at Ukazoo Books. To reserve a copy of either book, call Ukazoo at 410-832-2665. Politsch invites Ukazoo patrons to bring questions and share their views of world events triggered by anger.
Kent Politsch, a 40-year veteran of broadcast journalism and public affairs management, also spent many years as a volunteer basketball coach assisting his teams to AAU state championships. A Midwest transplant to the Baltimore-Washington area in 1998, Politsch became a federal employee in 2005 when joining the U.S. Department of Agriculture. He uses his diverse background to weave his unusually different experiences together in suspenseful stories certain to evoke excitement about familiar Maryland and D.C. settings.
Ukazoo Books, Sat., Jan. 24, 2015, at 1 p.m. Meet the author of "Blood Anger" and "Global Anger."