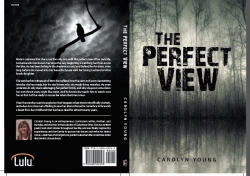 Gahanna, OH, January 09, 2015 --(
PR.com
)-- The long awaited novel, "The Perfect View," by Carolyn Young has been released. It is a psychological thriller, and a page turner from beginning to end. It has been described as "riveting," "suspenseful and twisted," and "exquisitely written." Here is the synopsis:
"Mara is unaware that she is not the only one with the perfect view of her life. Someone is watching her. He has been hiding in the shadows for years, long before she moved into her lovely house with her husband and his daughter.
"The watcher has witnessed every devastating mistake she has made, but he knows all she has suffered and understands why she made those mistakes. He understands why she is sabotaging her family, and why she pours wine down her throat every night like water.
"Then the watcher sees the explosion that happens when Mara's mind finally shatters, and when he comes out of hiding to save her, Mara is forced to face a beast that has been dead for almost twenty years."
"The Perfect View" is available on Amazon.com, BarnesandNoble.com, and Lulu.com in both print and ebook versions, and in the iTunes bookstore.
Learn more about Carolyn Young at CarolynYoungWrites.com.