Mars National Bank Staff Support Butler County Winter Relief Center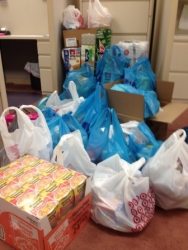 Mars, PA, January 13, 2015 --(
PR.com
)-- Mars National Bank staff donated over 25 bags of home supplies and $215 to the Butler County Winter Relief Center. The Center helps the homeless in Butler County providing food and overnight shelter during the winter. Supplies donated by Bank staff included water, paper towels, plastic bags, facial tissues, lip balm and cough drops, along with non-perishable food items.
"Our staff always steps up when asked to contribute to a worthy cause in our community," said James V. Dionise, President and Chief Executive Officer of Mars National Bank. "We're glad to support an organization like the Winter Relief Center which deals with immediate needs like food and shelter."
The Winter Relief Center is a program operated by Grace Youth and Family Foundation in collaboration with Butler County's Local Housing Options Team at The Net Outreach 100 Center Avenue Butler, PA 16001. It operates daily from 8:30pm to 8:00am November 1st through March 31st serving individuals 18 years of age or older and their families. Last winter the organization served over 80 individuals.
Mars National Bank and its employees are committed to supporting our communities through volunteerism as well as financially. Learn more at MarsBank.com/about/in-the-community/
Mars National Bank is your one true community bank focused on combining the products and technology that its customers need while maintaining its focus on long-term customer relationships.
About Mars National Bank
Mars National Bank is committed to remaining a relationship driven, independent community bank, which offers competitive products and services, made up of dedicated professionals who are passionate about serving our customers in a personal, efficient and friendly manner.
Contact
Mars National Bank
Stephen Eckert
412-390-0403
www.marsbank.com

Contact