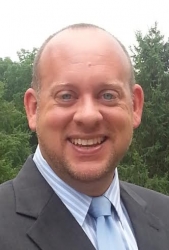 Toms River, NJ, January 16, 2015 --(
PR.com
)-- Counsellors Title Agency, Inc., www.counsellorstitle.com, announced today that John DeSantis Jr. has joined the agency's sales and marketing team of licensed title producers. John DeSantis Jr. comes to Counsellors Title with a broad and distinguished knowledge of the title insurance industry, representing over a quarter century of professional title experience.
John DeSantis Jr. joins Counsellors Title Agency as a Regional Account Manager.
Expertise & Integrity
Mr. DeSantis represents a life-long knowledge of the title-search business which began as part of his family's business. He recalls accompanying his mother, a title searcher, to the Hall of Records, as a young child. His 'title education' was broadened further by his uncle who was a title searcher, who had him coloring his many layered deeds, and plotting before he was 10 years old.
Prior to joining Counsellors Title Agency, John DeSantis was president of Meridian Title Agency, which he founded in 1989.
John DeSantis is a guest lecturer at Brookdale Community College and for Academy of Continuing Education for the Professions and the New Jersey Legal Training Academy. He is also a member of the Central Jersey Business Exchange.
"I am excited to start a new challenge with Counsellors Title and look forward to working with the dynamic team Ralph Aponte has put together over the course of two decades which has distinguished itself as a leader within the industry," said John DeSantis Jr.
Ralph Aponte, President and Founder of Counsellors Title Agency stated, "John's extraordinary wealth of experience and industry knowledge has already made him a key addition to the Counsellors Title organization. We are enthusiastic about his ability to make a great contribution to our growth as one of New Jersey's leading title insurance and settlement businesses."
Contacts:
John DeSantis Jr.
Office: 732.914.1400
Mob: 908.675.7000
Email: john@counsellorstitle.com
Media
Anthony J DiMaio, Public Relations
917.449.1177
AnthemCommunications@gmail.com
Counsellors Title Agency, www.counsellorstitle.com, founded in 1996, is one of New Jersey's most respected title agencies, serving all 21 New Jersey counties with title insurance, clearing title, escrow, tidelands searches, and closing and settlement services for commercial or industrial properties, waterfront properties and marinas, condominiums, townhouses or residential single family homes. Counsellors Title also features its own Attorney Settlement Assistance Program™ [ASAP], which is an individual resource customized to fit the needs specifically of real estate attorneys, including, Documentation, Preparation, Disbursement of Funds, Attendance at Closing, HUD Preparation or Post-Closing Matters. CTA maintains an impeccable customer relations standard over the last 19 years which hundreds of attorneys, loan officers and Realtors, have come to rely.