Counsellors Title Announces That Paul Hoyt Has Joined the Agency
Company Continues to Expand the Team of Licensed Title Producers Providing Expedited Services for Attorneys, Loan Officers, Realtors and Consumers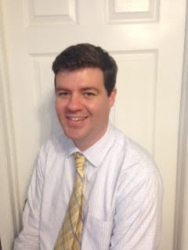 Toms River, NJ, January 20, 2015 --(
PR.com
)-- Counsellors Title Agency, www.counsellorstitle.com, announced today that Paul Hoyt has joined the agency's growing team of licensed title producers. Paul Hoyt comes to Counsellors Title with experience as title producer and loan officer with one of the state's largest national banks.
Paul Hoyt joins Counsellors Title as an Account Executive and his territories will include all 21 New Jersey counties, with a concentration on Monmouth, Ocean, Middlesex, Mercer, Burlington and Somerset counties.
Paul is a life-long New Jersey resident, father, coach and athlete.
He has worked within the real estate industry for nearly a decade, which includes Wells Fargo, as well as a licensed title producer. He holds an Associates degree from Ocean County College.
Ralph Aponte, President and Founder of Counsellors Title Agency said, "As part of Counsellors Title's focus to earn our clients' business every day – we continue to invest in individuals whose talent, passion and expertise are committed to surpass customer expectations. We seek to be responsive, innovative, and more dedicated than our competition. Hiring exceptional people, such as Paul, is another step in proving Counsellors commitment to its clients.
Paul Hoyt, "I am very excited to be joining Counsellors Title Agency. This is truly an organization whose culture of service and integrity have been part of so many of New Jersey property transactions. I know I am going to enjoy being part of this winning team of professionals."
Contacts:
Paul Hoyt
Office: 732.914.1400
Mob: 609.618.0742
Email: paul@counsellorstitle.com
Media
Anthony J DiMaio, Public Relations
917.449.1177
AnthemCommunications@gmail.com
Counsellors Title Agency, www.counsellorstitle.com, founded in 1996, is one of New Jersey's most respected title agencies, serving all 21 New Jersey counties with title insurance, clearing title, escrow, tidelands searches, and closing and settlement services for commercial or industrial properties, waterfront properties and marinas, condominiums, townhouses or residential single family homes. Counsellors Title also features its own Attorney Settlement Assistance Program™ [ASAP], which is an individual resource customized to fit the needs specifically of real estate attorneys, including, Documentation, Preparation, Disbursement of Funds, Attendance at Closing, HUD Preparation or Post-Closing Matters.
CTA maintains an impeccable customer relations standard over the last 19 years which hundreds of attorneys, loan officers and Realtors, have come to rely on. CTA's Professional Specialties: Title insurance, closings, residential, commercial and governmental. For further information contact Ralph Aponte, President, Counsellors Title or for media contact Anthony DiMaio at 917.449.1177 go to www.counsellorstitle.com.
Contact
Counsellors Title
Ralph Aponte
732.914.1400
www.counsellorstitle.com

Contact