Melissa Riley Appointed CEO & Team Leader of Keller Williams Realty Partners
Keller Williams Realty Partners introduces new CEO and Team Leader Melissa Riley.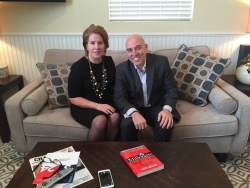 Yorktown Heights, NY, January 19, 2015 --(
PR.com
)-- "This is an exciting time for our Company," said Lou Cardillo, Owner of Keller Williams Realty Partners. "Due to our rapid growth in this area, there was a need to offer more to our agents in the way of leadership & training. Keller Williams is all about offering our associates unparalleled career growth and lifelong learning opportunities in the real estate industry. This company succeeds through its people, and having Melissa on our team is a huge win for us," said Cardillo.
"I joined Keller Williams Realty because I wanted to be a part of something exciting," Riley says. "This company promotes an agent-centric business model that focuses on cutting-edge training, profit sharing and wealth-building opportunities. The culture and business model of Keller Williams is absolutely unique within this industry. It is unequaled by any other real estate company that I've worked with in that the agent is truly important. When the agent is educated, motivated and enthusiastic about their career everyone wins. My objective is to educate, enlighten, empower, and elevate my agents to their highest potential. The focus is helping others better their business and themselves through the power of knowledge," said Melissa.
Over the span of a 30-year career, Melissa has worked as a real estate agent, manager, regional manager and senior vice president of corporate services, which included operations, corporate relocation, Internet and home services divisions.
A certified Brian Buffini mentor, she cultivates talent among both industry newcomers and seasoned pros by working with them one-on-one to develop their sales style and skill set; she also expects agents to develop their technological skills through ongoing learning.
She's personally invested in the career success of every agent and commits substantial time, energy and resources in helping all of them reach their fullest potential.
Melissa's commitment to excellence has earned her praise from her agents, who have alternately described her as "a natural leader," "proactive" and "an astute businesswoman" who leads by example and demonstrates personal integrity. She is best known for her endless energy, creativity and personal discipline to excel.
Melissa's dedication to lifelong learning among agents also extends to her own career. She works with a business coach who helps her recognize and embrace new opportunities for learning and personal growth by applying a positive, proactive approach to both personal and professional goals. Melissa is an avid blogger and social media enthusiast.
Melissa has assumed a leadership role in the industry at the local and state levels. She is an executive committee member of the Connecticut Association of Realtors (Vice President at Large for Large Firms), a member of the Connecticut Association's finance committee and former president of the Greater Fairfield Board of Realtors.
She was named "Realtor of the Year" by the Greater Fairfield Board of Realtors in 2010; that same year, her Westport office was named "Office of the Year" by Berkshire Hathaway HomeServices out of a field of 50 sales offices throughout Connecticut and Rhode Island.
If you would like to know more about how Keller Williams can help you achieve your goals in Real Estate please contact Melissa at 203-253-9222 for a confidential conversation.
About Keller Williams Realty, Inc.:
Keller Williams Realty, Inc. is the largest real estate franchise company in North America, with approximately 700 offices and 107,000 associates in more than a dozen countries around the world. The company has grown exponentially since the opening of the first Keller Williams Realty office in 1983, and continues to cultivate an agent-centric, education-based, technology-driven culture that rewards associates as stakeholders. The company also provides specialized agents in luxury homes and commercial real estate properties. For more information or to search for homes for sale visit Keller Williams Realty online at www.kwrprealty.com For more information about Keller Williams Worldwide, please visit www.kwworldwide.com
Contact
Keller Williams Realty
Lou Cardillo
914-962-0007
www.kwrprealty.com

Contact