Nylon Fusion Theatre Company Announces Their Short Play Festival "This Round's on Us" Time Travel Featuring New Works by Don Nigro, Michael Puzzo and Actor John Doman.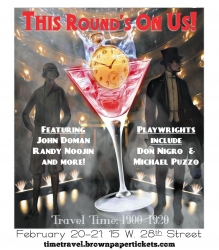 New York, NY, January 27, 2015 --(
PR.com
)-- Nylon Fusion Theatre Company announces their Short Play Festival "This Round's On Us" on February 20-21, featuring eleven new plays in two sets. Guest writers include Michael Puzzo and Don Nigro. Gotham's John Doman plays President McKinley in Nigro's new play Front Porch. Hosted by Lori Kee.
Plays by Don Nigro, Michael Puzzo, Matt Crowley, Michael Panes, Jake Rosenberg, Andrea Steiner, Patrick Gabridge, Andy Evan Cohen, Joseph Samuel Wright, Matt Jordan, Janet Bentley.
Directed by Tony Glazer, Crystal Edn, Glory Kadigan, Janet Bentley, Shira Lee Shalit, Joan Kane, Ivette Dumeng, Laura Pruden, Lori Kee, Frank Licato.
Performances by John Doman, Jacob Troy, Mariel Donnelly, Anthony Aibel, Alyssa Block, Thomas Wesson, Tatyana Kot, Javan Nelson, Helen Herbert, Rachael Tice, Randy Noojin, Lori Kee, Paul Nugent, Stephanie Heitman, Alex Ferrill, John Keabler, Mary Baynard, Alexandra Perlwitz, Andrew McLarty, David Meyers, Julian Elfer, Skyler Gullun and Marcus Guy Crawford, Kevin Cristaldi, Racine Russell, Joe Stipek, Randall Rodriguez and more.
Lighting design by Gilbert Lucky Pearto and Sound design by Andy Evan Cohen and Stage Management by Rae Rossi. All artists appearing courtesy of Theatre Authority.
Michael Puzzo is a playwright, actor (Doubt) and a long time member The LABrynth Theater Company.
John Doman is an actor best known for playing Deputy Police Commissioner/ Major William Rawls on HBO series The Wire and is currently in Gotham.
Don Nigro is an American playwright; his plays Anima Mundi and The Dark Sonnets of the Lady have both been nominated for the National Repertory Theatre Foundation's National Play Award. Winner of the Playwright's Fellowship Grant from the National Endowment For The Arts.
Nylon, born of a fusion of New York and London creativity, a theater company committed to giving voice and perspective to established and emerging artists. We develop and produce plays that explore political, social and cultural awareness.
Tada! Theatre 15 West 28th 2nd Floor New York, NY 10001 | Closest subway is the 28th Street Station: 1 and 34th Street Station: 1, 2, 3, A, C.
Tickets at the door: $20.00 @
nylonfusion.org for more information and ticketing.
Advance Tickets: TimeTravel.Brownpapertickets.com
Friday, February 20 at 7pm | Friday, February 20 at 9pm| Saturday February 21 at 7pm | Saturday February 21 at 9pm
Nylon Fusion's gala will be February 23 at 7pm. Academy Award winning John Patrick Shanley invites you to A Date With History with Grammy Award Winning Wynton Marsalis and Grammy Nominee Ted Nash. Honoring Tony Award winning Anika Noni Rose (Dreamgirls) and Tony Award nominated Austin Pendleton
Guests will include: Academy award winning Paul Haggis, Stephen Adly Guirgis (Mother**cker With A Hat) and many more. For Tickets: adatewithhistory.eventbrite.com from $35-$250
Contact
Nylon Fusion Theatre Company
Ivette Dumeng
347-524-0514
www.nylonfusion.org

Contact