MULTI SEAL Tire Sealants Launching New Brand in 2015
New logo, vision and marketing direction emphasize the science behind MULTI SEAL's tire sealant protection technology and products.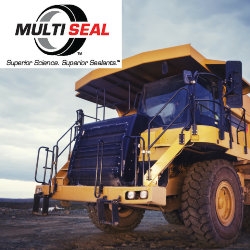 Houston, TX, February 03, 2015 --(
PR.com
)--
MULTI SEAL, the leader in industrial tire protection technology and tire sealant manufacturing
, announced it will introduce a new company logo in 2015. The company has spent months rebranding in a move to prepare MULTI SEAL for a major marketing push on several fronts. While the company's name will not change, a new logo will begin appearing on products and corporate marketing in the next few months. A new video with MULTI SEAL President Don Webb explaining the rebrand and marketing direction may now be watched at MULTISEAL.us. The company's website is also getting a facelift and a new advertising campaign is promised.
Webb is planning to launch the company into a new phase by unleashing a long-term marketing strategy this spring.
"My father built MULTI SEAL and invested in the science behind our products," said Webb. "Now is the time for us to take the next big step by improving our marketing and promotion." In Q4 2014, MULTI SEAL signed with the
Hallaron Advertising Agency
to help manage the rebrand and its new marketing and advertising campaigns.
Since 1981, MULTI SEAL has produced and sold tire sealant products for industrial vehicles and heavy trucks. The company also manufactures a variety of private label sealants for other distributors who market MULTI SEAL's formulae under their own brand names.
Webb continued, "The performance data shows that MULTI SEAL is the longest lasting, most effective tire sealant on the market today. It is the superior product. The proof is found in 30 years of scientific research in the lab and of course in actual results experienced in the field."
MULTI SEAL's primary product line includes Heavy Duty, Heavy Duty Environmental Formula, Hydro Seal, Sports Formula, and Armor Seal. The product is installed through the valve stem and protects tires from underinflation caused by slow leaks or punctures. Armor Seal has been successfully tested on punctures in excess of 1.25" in heavy ply tires. The sealant is intended as a preventative maintenance product and lasts the life of the tire. MULTI SEAL extends the life of tires while providing a safer driving experience.
About MULTI SEAL
Since 1981 MULTI SEAL has produced high performance tire sealants, scientifically formulated to prevent underinflation caused by slow leaks or punctures. Using proprietary formulae and ingredients, MULT SEAL's products are blended in the United States specifically for industrial segments. MULTI SEAL is the world leader for superior tire sealant technology.
For more information on MULTI SEAL, visit
www.multiseal.us
.
Contact
MULTI SEAL
Mike Hallaron
800.577.3353
www.multiseal.us

Contact