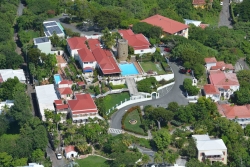 St. Thomas, Virgin Islands, February 06, 2015 --(
PR.com
)-- Blackbeard's Castle and seven other historically significant estates are being offered for $18,000,000. True Real Estate is excited to be lending a helping hand to market these impressive properties.
Since 1967, a local family has accumulated and preserved almost three acres, including eight centuries-old estates, in downtown Charlotte Amalie, St. Thomas, USVI. This unique compilation includes Estate Skytsborg aka: Blackbeard's Castle, Haagensen House, Brittania House, Villa Notman, Mendlicott Estate, Hotel 1829, Bank House and the Magens-Pedersen Estate. The grounds, restored homes and botanical gardens are absolutely stunning.
The estates are currently being used as a historic walking tour and Bed & Breakfast. All of the properties are in the Kongens historic district. The historical significance behind each of the eight properties is impressive as well as fascinating. All of the properties date back to the 18th and 19th century and have either been homes to the wealthy and elite of that time or protected the island from invaders.
The Magens-Pedersen estate for example, is the only archaeological dig site in the entire Caribbean and the only completely intact estate on St. Thomas. The most recent excavation was performed by Syracuse University and led by Professor Douglas Armstrong. He has been involved in the dig and restoration for over a decade.
The complete site is made up of 20 separate parcels. Because of historic and sentimental value, the owner will only sell the entire compound to a sole buyer, one that will preserve these majestic estates. Google any of these estates, like the Haagensen House, select images, and you will find thousands of pictures of a meticulously restored estate. These are not reproductions; everything is authentic.
From detailed historical findings to illustrative descriptions of each property, everything regarding each and every one of these estates, and more, can be found on EstateSkytsborg.com. The unforgettable views from atop Blackbeard's Hill are simply breathtaking. Enjoy the video footage and photography available in the image gallery. Check out all the Things To Do on the island as well as learn how purchasing real estate in St. Thomas can be a huge tax benefit to American citizens. These trophy estates may never become available again.
For more detailed information, please visit
www.EstateSkytsborg.com
.
For media inquiries, contact
info@estateskytsborg.com
or call/text 941-918-1956.