America's Registry of Outstanding Professionals' Member, Robert H. Schiestl, Ph.D. Has Been Honored with a Times Square, New York Appearance
For his achievements and accomplishments in the field of Higher Education-Pathology and Cancer Research, Robert H. Schiestl, PhD, of Encino, California, has been named Professional of the Year 2015 by America's Registry. In addition, he has been honored with a Times Square, New York appearance by Strathmore's Who's Who.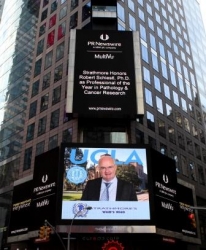 Farmingdale, NY, February 25, 2015 --(
PR.com
)-- Dr. Schiestl's illustrious career began in Austria where he earned his PhD in biology at the University of Vienna in the Department of Cancer Research in 1983. He was the Universitäts Assistant there for a short time after which he pursued his post doctoral studies in the Department of Biology at the University of Alberta in Edmonton, Alberta, Canada until 1986. He then went to the University of Rochester, New York, where he was a Postdoctoral Fellow in biology from 1986 to 1989. Dr. Schiestl continued his career at the University of North Carolina in Chapel Hill, North Carolina where he was an assistant researcher in the Department of Biology from 1989 to 1991. From there, we went on to become the associate professor at the Harvard School of Public Health. He is currently a professor at UCLA as Professor of Pathology, Laboratory Medicine, Radiation Oncology and Environmental Health Sciences. He specializes in the molecular basis of cancer. In addition to his other accomplishments, Dr. Schiestl was Brainpower Austria Guest Professor in the Department of Cancer Research at the Medical University of Vienna from 2008-2011. He has 180 publications to his credit, 5 press releases and 10 patents. Among his 3 start up companies are Micro Pharma, Inc. and RadMit Pharma, LLC which are located in Los Angeles. RadMit, Pharm GesmbH is located in Austria. He is in the process of starting a 4th. He is affiliated with the Society of Toxicology and, in his leisure time, he enjoys fishing, hiking and animals.
The Times Square honor is of particular significance because of the high visibility it offers. This visual celebration of Dr. Robert H. Schiestl's career appeared at regular intervals on two monitors attached to the landmark skyscraper at 3 Times Square, #1, New York, NY 10036 on February 6, 2015. This structure is situated in what could be considered the busiest area of Manhattan. America's Registry is pleased to acknowledge the recognition that has been bestowed on him by Strathmore's Who's Who.