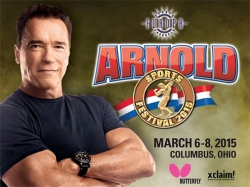 Wilson, NC, February 09, 2015 --(
PR.com
)-- The 2015 Arnold Table Tennis Challenge presented by Butterfly is a 4-star table tennis tournament held in conjunction with the world famous Arnold Sports Festival in Columbus, OH. The Arnold Sports Festival began 27 years ago after Arnold Schwarzenegger began the event to honor winning his first body building event in the city. This year, the event is expected to attract over 250,000 attendees in over 50 sports. Table-tennis will be one of the approximately 14 Olympic sports, and all tournaments participants will have access to spectate the other events at the festival, including the body building, pickle ball, cheerleading, jump rope and many others.
The 2015 Butterfly Arnold Table Tennis Challenge will be held at the Ohio Expo Center along with archery, cheerleading and equestrian. The venue has been upgraded to accommodate the expected high number of players and elite level of play, including fully barriered courts and Olympic level lighting on over 50 Butterfly tables. Past national and international Olympic and National team members and champions have competed in the event such as Zoran Primorac (Croatia), Mark Hazinski (USA) and Chih-Yuan Chuang (Taiwan). The tournament offers $4,000 in prize money for Open Singles, and a total of $12,000 in prize money in 35 events. Events range from recreational/ beginner events such as family doubles and 41-point handicap competitions to Olympic level play. In addition, players will be able to share their love of the sport with others at the festival as tables will be placed in Columbus Convention Center throughout the weekend.
The Arnold Table Tennis Challenge is a unique opportunity for recreational and elite table tennis players alike to participate in one of the largest sports festivals in the world. It also offers the chance for everyone to share their love of table tennis on a larger scale.
To learn more about table tennis at the Arnold Sports Festival please visit http://
www.arnoldtabletennischallenge.com
and watch the promotional video, https://www.youtube.com/watch?v=NOD1s2QF1JE, where table tennis is featured along with the other sports. Entries for the 2015 Butterfly Arnold Table Tennis Challenge are accepted until February 23rd. To enter and be part of this magnificent event, please visit http://
www.arnoldtabletennischallenge.com
or contact Ed Hogshead at ehogshead@landmarkbilling.com.
Continual coverage of the 2015 Butterfly Arnold Table Tennis Challenge and stories about the athletes will be available at ButterflyOnline.com, or via Butterfly North America's Twitter [
https://twitter.com/butterflyonline
] and Facebook [
https://www.facebook.com/butterflytabletennis
] pages.
Butterfly is the world leader in table tennis / ping pong equipment and gear. Butterfly will supply professional, ITTF approved Butterfly table tennis tables, net sets, barriers and Butterfly ITTF approved, 3-Star 40+ plastic balls. The professional tables used at this tournament and on the 2015 Butterfly North America Tour are for sale, reserve one today by visiting
http://www.ButterflyOnline.com/Tours
.