Burn Expands Presence in San Francisco Bay Area with New Studios
Popular Fitness Studio Opens Fourth Location in San Francisco with Plans to Expand to Oakland and Saratoga in Early 2015.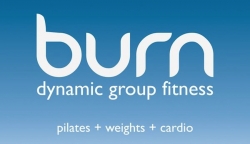 San Francisco, CA, February 11, 2015 --(
PR.com
)-- Burn, a
San Francisco-based fitness studio
, today announced it has continued its expansion in the San Francisco Bay Area, opening a new studio in San Francisco's Hayes Valley/Mid-Market neighborhood. The studio will be located at 1632 Market St. and will accommodate 18 students per class.
The new Hayes Valley/Mid-Market studio will celebrate its grand opening on Saturday, February 21 with classes led by Burn founder Lisa Corsello from 8:00 am until 11:00 am and classes led by Fitness Director, Rachael Frank from noon until 2:00pm.
The celebration continues later in the evening with a Grand Opening Party from 6:00 – 8:00pm at the new studio. Join Burn for complimentary appetizers and drinks, check out the new studio, and enter the raffle to win great prizes, from workout gear to Burn class packages.
In addition to opening the Hayes Valley/Mid-Market studio, Burn recently introduced customized Slastix resistance bands, designed specifically for Burn by Stroops, the world's largest performance training company. The new Slastix bands have allowed Burn to add more movement, more exercises and more modifications to the Burn workout, ensuring clients get the smartest, safest, most challenging and creative workout possible.
"As a Bay Area native, I am thrilled to be expanding Burn to more locations in the Bay Area," said Lisa Corsello, Founder, Burn. "Our goal at Burn is to positively affect people's lives through fitness and help our clients succeed, whether you're aiming to reach a new fitness goal, enhance your competitive edge, or trying to fit exercise into a busy schedule."
Burn will continue its expansion in the Bay Area, with additional studio openings planned in Oakland, CA and Saratoga, CA for early 2015. The 55-minute workout combines the best of Pilates, strength training, and cardio, keeping your heart rate up for the entire class and torching between 500-650 calories in one session. No matter what your fitness level, from beginner to advanced, Burn accommodates and challenges your body in every session, so you get a full body workout regardless of what shape you are in.
Check out the Grand Opening Class Schedule
here
, and follow Burn on
Facebook
,
Instagram
,
Twitter
and
Pinterest
for more updates and fitness tips.
About Burn
Burn, created by ACE Certified Personal Trainer, nutrition consultant, certified Yoga, Pilates and group fitness instructor, Lisa Corsello, is a 55-minute workout that brings the benefits of dynamic individualized workouts to groups using a method that draws upon the best of Pilates, strength and core training for optimal results. The program emphasizes constant movement using circuits to challenge and improve endurance, agility, balance and strength, with appropriate focus on stressing proper form and method. Each workout incorporates dynamic strength and cardiovascular training with active recovery techniques targeting all major muscle groups. Sessions are intended to be learning experiences that constantly evolve, keeping each one challenging and fresh.
Contact
Burn
Anastasia Pallas
415-867-6262
www.burnsf.com

Contact