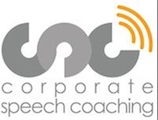 West Palm Beach, FL, February 20, 2015 --(
PR.com
)-- Corporate Speech Coaching, an acclaimed group of speech gurus with a varied and extensive portfolio in this specialty, has just added new training programs geared towards speech improvement. In addition to employing the latest techniques and methods, this progressive company has added more instructors to help clients become better speakers. Their speech coaching is suitable for a variety of clients including individuals who want to work on their speaking skills, business people looking to make effective presentations, and professionals who make a living with their voice.
Lauren Leonard, Managing Director of Corporate Speech Coaching, says "Our services are in demand at an ever-increasing rate. Our clients come from all walks of life - young adults pursuing a career, individuals looking for new employment, working people of all ages, entrepreneurs in every area, retired groups, and professionals whose career is dependent on their voice."
"Corporate speech coaching is one of our main areas of growth. Corporations are realizing the importance of helping their employees to become better speakers," says Leonard.
Corporate Speech Coaching has received an impressive list of testimonials from private individuals to corporate officials. The company's comprehensive programs have helped countless clients overcome speech anxiety. As well, business people marvel at the skill building techniques in the training, prompt rate at which one can achieve results, and the company's unique approach, as well as many other positive aspects of this initiative.
Contact Lauren Leonard and discover even more benefits of speech coaching. Check out informed opinions from clients who have already gone through the programs -http://www.CorpSpeechCoaching.com. Leonard says that the entire team is very enthusiastic and energized with their official launch. In honor of their grand opening, Corporate Speech Coaching is holding an online contest offering a prize of one complimentary Skype training session to the 15th person who emails the team through their contact page. Leonard wishes everyone good luck with the contest.
"The greatest reward, however, that I have seen coming from Corporate Speech Coaching is the confidence and skills imparted to the program participants," adds Leonard.
About Corporate Speech Coaching:
Corporate Speech Coaching, a West Palm Beach-based professional team who are trained and experienced in the area of speech improvement, has developed a customized program for people wanting to become better speakers. Whether an individual wants to be able to speak more effectively on a date, in a business setting, or in a professional capacity, the company's personalized approach and flexible program suits everyone. This expert group is playing a huge role in lessening speech anxiety on a broad basis. Corporate Speech Coaching is the 'come to' place for people with a fear of public speaking. Call Corporate Speech Coaching; get a better voice.
Contact:
Lauren Leonard
Managing Director
Corporate Speech Coaching
Let's Talk: (561) 8 - SPEECH
http://www.CorpSpeechCoaching.com