Boston Business Journal to Co-Host Greg Nanigian Sales Workshop at McLane Law on March 10th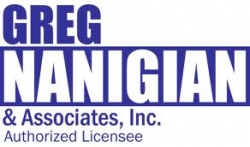 Boston, MA, February 28, 2015 --(
PR.com
)-- The McLane Law Firm and BBJ will host a special sales workshop Tuesday March 10, presented by Mr. Greg Nanigian, owner of Greg Nanigian & Associates Inc/Sandler Training.
The Boston Business Journal will sponsor Mr. Nanigian's presentation which will be held at the McLane Law Firm, 7th floor Suite 7600 from 8:30am-11:30am. Breakfast will be served for this event so early arrival is suggested.
The McLane Law Firm is located at 300 Trade Center, Woburn MA 01801. [For GPS Purposes: Use 100 Sylvan Road, Woburn MA]
Mr. Nanigian's presentation will be "Why Features and Benefits don't sell and What Does!"
This highly interactive, fun and educational presentation will address selling challenges including price objections, getting rid of "Think it Overs" and closing deals without sounding like a salesperson! Participants will discover specific wholesale changes to improve closing ratio and a process for qualifying faster.
The presentation will teach that the person who talks more in a selling situation is the person who is not in control.
Greg Nanigian will train on the Sandler seven step selling system so participants will learn how to sell more and sell more easily. Participants will learn how to build credibility without "spilling their candy in the lobby"; in other words how to build credibility without doing lots of free consulting and presenting too soon.
For more information and to register visit the BBJ website:
www.bizjournals.com/boston/event/127021
About McLane, Graf, Raulerson & Middleton Professional Association
Founded in 1919, McLane, Graf, Raulerson & Middleton Professional Association is one of New England's premier full-service law firms with offices in Manchester, Concord and Portsmouth, New Hampshire and Woburn, Massachusetts. Driven by the firm's depth of sophisticated legal expertise and an unwavering commitment to client service, McLane has built collaborative and lasting relationships with a broad spectrum of domestic and international clients. www.mclane.com
About Boston Business Journal
The Boston Business Journal is the industry leader covering business news from a local, regional and national perspective, reaching more than 13 million affluent business decision makers via our websites, mobile, publications and industry events.
About Greg Nanigian
Greg Nanigian is a professional sales and sales management trainer and writer. He's President of Sandler Training in Massachusetts.
His organization has trained Cummings Properties, The Boston Business Journal, Resolve Technology (software), Roomscapes (remodeling), TSG Global (phone/texting service), Johnson Compounding (medications), AzimaDLI (manufacturing monitoring), Gryphon Networks (sales performance software), Express It Logistics (shipping service), The Massachusetts Society of CPAs, New York Life Insurance, RAID Software, Cardi's Furniture, Lehman Millet Advertising, RPC Packaging, Sovereign Bank, and Emerson Electric Industrial.
Contact
Greg Nanigian & Associates Inc/Sandler Training.
Greg Nanigian
(781) 848-0993
http://www.gnatraining.sandler.com/

Contact