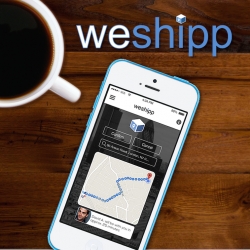 London, United Kingdom, March 02, 2015 --(
PR.com
)-- New startup company Weshipp (http://www.weshipp.com) is looking to change the face of logistics and shipping in the UK. Weshipp's aim is to eliminate poor service and make shipping easier for everyone:
· Customers will get cheaper shipping than going directly or via other parcel brokers
· Customers won't wait around for hours for a collection
· Customers won't spend any time and money on protecting, packaging and labeling your items
· They have referral rewards (like additional free collection and shipping)
· Businesses and high-volume sender will get extra discounts based on commitment
Essentially, these are the key points that stakeholders will see value against, with the service:
· Customers: Cheaper delivery, no waiting around, no time &/or money spent on protection and packaging, no need to drop-off items, better customer service
· Partners: Single/fewer collection points with less frequent collections, increased volume sending, fewer points of contact (from customers), increased service levels
· Investors: Customer adoption & base, higher profit margins (compared to typical parcel brokers), reputation of service, growth potential (throughout UK), additional business opportunities (on-demand services)
Director, Diran George, has experienced many failures with delivery companies as a trader himself, and looking at mass public opinion of many of these companies, decided something should be done about it. "Weshipp will be the answer to many of these problems," he said. With an interest in entrepreneurship and business, he is prepared to guide the company to success and profitability.
Weshipp will charge as little as £5.95 for each collection, with each collection containing multiple items and they will take care of the protection and packaging, plus Weshipp will also insure each item while in their transit for £500. What customers pay to deliver their items will depend based on their size, weight and also which partner and service they wish to use. Customers will be able to link your credit card or PayPal account to the app to save time too.
Weshipp's crowdfunding campaign will help them:
· Build the mobile apps
· Set-up "Shipp" with the relevant inventory to start trading
· Establish their "cloud" presence and marketing
· Hire their very first "Shippmates" (collectors)
· Start the service in London, UK
Weshipp has launched a campaign on IndieGoGo to raise initial funds (http://igg.me/at/weshipp).
For more information, contact:
· Company Director, Diran George: (diran@weshipp.com)
· General & Investor: (info@weshipp.com)
· Address: Weshipp LTD, 71-75 Shelton Street, London WC2H 9JQ
Telephone: +44 (0) 330 133 0280