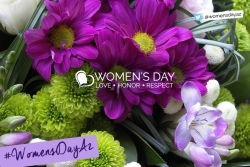 Phoenix, AZ, March 05, 2015 --(
PR.com
)-- Women's Day, observed annually worldwide on March 8, is a time to express respect, appreciation and love and to celebrate women's achievements. It is a time to recognize all the amazingly influential women throughout history and today – from business to politics to athletics to philanthropy to celebrity. And to celebrate the amazing women we interact with on a daily basis. Around the world, many people give flowers and other small gifts to their mothers, wives, grandmothers and daughters, as well as coworkers, teachers and friends in recognition of Women's Day.
In keeping with the tradition of giving flowers on Women's Day, the Arizona floral community has combined efforts to raise awareness for Women's Day in Arizona by giving free flowers away through a campaign called Love, Honor and Respect. The campaign is centered around encouraging the community to celebrate Women's Day by sharing stories about the special women in their life on
www.womensdayaz.com
. When someone shares a story, they are nominating that special woman to receive free flowers, compliments of the participating local florists. Research at Rutgers University demonstrates flowers create instant delight and increase happiness and life satisfaction, making flowers a top choice for celebrations. "Love, honor and respect translate so beautifully with flowers," said Cheryl Denham, owner of Arizona Family Florist, located in Phoenix Arizona.
Denham provides the following floral recommendations for Women's Day:
· Show love for the lovely ladies. A fabulous flowering plant or a garden-style arrangement with greens and soft pastel hues will send the message of love to your mom, grandmother, aunt, sister or daughter.
· Give a gift of beauty to your gal pals. Give flowers to show friends or neighbors that you appreciate them. Garden-style flowers or a bright bold color palette are fun and whimsical options. A basket with a mix of flowering and green plants delivered to her door or office is also a sure-fire winner.
· Recognize your professional connections. Giving flowers to clients and employees is a sophisticated way to recognize workplace accomplishments, and a thoughtful way of saying "I appreciate all you do" to teachers and childcare professionals. A mixed floral arrangement of reds, rich oranges and fuchsias inspires and energizes. Another color combination is bright oranges and lime greens. Those colors together are contemporary, generate energy and excitement, and are perfect for showing thanks and appreciation.
· Wow your wonderful wife! Note your wife's favorite flowers – the varieties at your wedding, flowers you sent her when you first started dating, or the ones she buys for herself. What is her favorite color? Those flowers will have great meaning and impact.
Giving a gift of flowers is not only good for the recipient but good for the community. "In addition to recognizing and celebrating the achievements of women, our goal is to raise awareness for the non-profit organization Phoenix Dream Center and their amazing outreach program Where Hope Lives," said Tony Medlock AIFD, PFCI of PJs Flowers located in Phoenix Arizona. The purpose of Where Hope Lives is to rescue trafficking victims, offering them love, hope and a way off the streets. Established in 2009, the non-profit Where Hope Lives
www.wherehopelives.org
formerly The Rescue Project, is a national leader in the rescue, recovery and prevention of human trafficking and relies on donations and support from both the public and private sector. In addition to helping raise awareness, the Arizona floral community donates roses each year that are used in their heroic outreach efforts as an expression of love when rescuing young women.
The campaign to raise awareness for Women's Day in Arizona is being supported by local Arizona florists as well as CalFlowers (California Association of Flower Growers and Shippers) and Asocolflores (The Association of Colombian Flower Exporters). "Every woman deserves Love, Honor and Respect. Whether mother or daughter, young or old, Arizona's amazing women deserve to be honored this Women's Day. CalFlowers is proud to support Women's Day outreach efforts both locally and nationally," said Michael LoBue, CEO of CalFlowers.
About Women's Day Arizona
The Arizona floral industry is dedicated to helping others show Love, Honor and Respect for the women in their life by recognizing Women's Day in Arizona. In addition, Women's Day Arizona and the Arizona floral community are committed to helping raise awareness for the Phoenix Dream Center and their amazing outreach program, Where Hope Lives. For more information about Women's Day Arizona, please visit www.womensdayaz.com.
To learn more about how you can make a difference by donating or volunteering your time to Where Hope Lives, go to www.wherehopelives.org
Research Methodology
"The Emotional Impact of Flowers" study was conducted by Jeannette M. Haviland-Jones, Ph.D., Professor of Psychology, Project Director, Human Development Lab at Rutgers, The State University of New Jersey. Dr. Haviland-Jones is a psychologist and internationally recognized authority in the role of emotional development in human behavior and nonverbal emotional signals and response. The research adds a scientific foundation to what many consider to be common knowledge — that flowers have a strong, beneficial impact on those who receive them. The Society of American Florists worked in cooperation with the Rutgers research team, bringing an expertise of flowers to the project. For more information about the emotional health benefits of flowers, visit http://www.aboutflowers.com/research