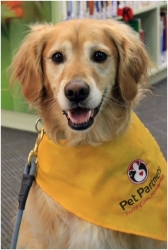 Bellevue, WA, March 06, 2015 --(
PR.com
)-- National Therapy Animal Day on May 18, 2015 was created to honor and support the exceptional registered therapy animal teams that provide comfort and healing to people in need. Treats & Sweets Day is Pet Partners' first ever national signature fundraiser that accompanies National Therapy Animal Day. Thousands of bakers from all over the country will be breaking out their mixing bowls, putting on their aprons and whipping up some treats and sweets for their animal and human friends alike. Join in the fun by registering at
www.treatsandsweetsday.org
. Your participation in this year's Treats & Sweets Day will help bring the healing power of animals to many people across the country and in your community. The funds raised will support Pet Partners in training and registering thousands of therapy animal teams who make over a million life-enhancing visits each year.
The first 500 registered bakers will receive a free Start-Up Kit in the mail which includes a fundraising guide, paper chef's hat, Treats & Sweets Day stickers and poster as well as a special offer from Animal Wellness Magazine, their official Treats & Sweets Day media sponsor.
Celebrity Participants:
Dr. Marty Becker, America's Veterinarian
You've seen him on "Good Morning America" and "The Dr. Oz Show." Dr. Marty Becker, an honorary board member for Pet Partners, is the author of 22 books that have sold more than 7 million copies combined, including three New York Times best-sellers. One of his books is the fastest-selling pet book of all time, "Chicken Soup for the Pet-Lovers Soul." Dr. Marty Becker truly is "America's Veterinarian."
David Mazouz, "Bruce Wayne" on Gotham
You probably know David Mazouz from his role as a young Bruce Wayne on the hit TV show Gotham, but we think he is a real-life hero for Pet Partners! When he is not busy on the set of Gotham, David loves hanging out with his family and his two beloved dogs, Lilah and Starlit. David plans to bake up some treats and sweets to help support the amazing heroic work of Pet Partner therapy animals! Holy cupcakes Batman! Won't you be David's sidekick and join in the fun?
About Pet Partners:
Pet Partners is the national leader in demonstrating and promoting positive human-animal therapy, activities and education. Nearly forty years since the organization's inception, the science that proves these benefits has become indisputable. Today, Pet Partners is the nation's largest and most prestigious nonprofit registering handlers of multiple species as volunteer teams providing Animal-Assisted Interactions.