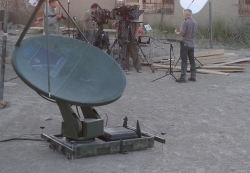 Calgary, Canada, March 13, 2015 --(
PR.com
)-- Network Innovations (NI) introduces their new Maverick VSAT Service revolutionizing the approach used to manage VSAT communication services. Utilizing Mx-DMA return technology combined with NI proprietary technology, Maverick optimizes satellite link-usage and performance through the delivery of end-to-end traffic management tools. Maverick generates fully scalable and flexible multi-service solutions that integrate existing multi-frequency bands and hardware, with the latest technological applications creating efficient and improved VSAT services and networks.
Maverick's forward thinking architecture and contemporary identification of customer needs provides tailored services delivered through hierarchical QoS, offering individual and guaranteed bandwidth requirements. "Innovation is what sets us apart and Maverick brings to bear the latest technologies in a very high efficiency for our customers," states Tim Harkema, President, Network Innovations. Maverick's service utilizes optimal modulation and bandwidth allocation technologies in a completely new model that provides efficient solutions for office-to-field and field-to-office, government encryption and corporate VPN access, remote global operations coordination, and remote employee access to broadband Internet. Markets served include defense and government, broadcasting, public safety, disaster response, energy, mining, utilities, enterprise operations, and other verticals.
Maverick works beyond today creating future-proof services and options. "Unlike traditional platforms that are restricted by hardware and only offer a few solutions, Maverick is a complete service that allows NI to create customizable solutions for a variety of needs," said Chad Gatlin, CEO, NCI4. "By having a portfolio of modems that will continue to grow and are always compatible to the platform, Maverick offers an extremely high ROI for our customers operational dollars."
For more information on Maverick service go to Networkinv.com/Maverick or contact Maverick@networkinv.com / Sales contact +1-954-1016 and +1-813-774-3305.
About Network Innovations
Incorporated in 1988, Network Innovations has grown consistently and profitably through our dedicated personnel located at offices around the globe. Our success has come through the development and delivery of turn-key communications solutions, ranging from handheld satellite phones to large fixed VSAT installations, for the defense, government, maritime, media, mining, oil and gas and public safety markets. Our flexibility to custom design solutions and integrate various satellite communications technologies for customer and industry specific needs, sets us apart. Network Innovations corporate headquarters are located in Calgary with branch offices in Fort Lauderdale, Kabul, Myanmar, Djibouti, London, The Netherlands, Singapore, Tampa, and Vancouver. NIC4 is a wholly owned U.S. subsidiary of Network Innovations headquartered in Tampa, FL and is a provider of rapidly deployable secure satellite communication services, communications infrastructure, and secure managed network solutions to Federal Agencies, Department of Defense, Local and State Government, NGOs, Government Contractors, as well as Coalition Forces.