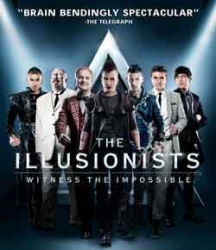 Dallas, TX, March 14, 2015 --(
PR.com
)-- The Dallas Summer Musicals & The Society of American Magicians are seeking video submissions from magic enthusiasts performing their best parlor magic tricks. The top five finalists in the Seeking a Texas Illusionist competition will showcase their parlor magic in a special event at The Improv in Arlington at the Comedy & Magicshow for all ages. The judging team, led by Dal Sanders, a former president of The Society of American Magicians, will select the winner, who will receive tickets to see the show and a chance to meet a member of the cast. The prize also includes dinner.
To enter, email a video link file of your best parlor trick to Dal Sanders at dal@stagemagic.com by Mon., March 30th, at 3 p.m. Submissions should be no more than two minutes in length. You must be at least 18 to enter.
The Illusionists tour, billed as a showcase of the talents of seven illusionists, stops at Dallas Summer Musicals for shows April 7 through 19 at the Music Hall at Fair Park.
"It's deliciously, self-knowingly over the top and brain-bendingly spectacular - genuinely satisfying family entertainment that should not be missed." -The Daily Telegraph
This mind blowing spectacular showcases the jaw dropping talents of seven of the most incredible Illusionists on earth. The Illusionists has shattered box office records across the globe and dazzles audiences of all ages with a powerful mix of the most outrageous and astonishing acts ever to be seen on stage. This non-stop show is packed with thrilling and sophisticated magic of unprecedented proportions. (official show description).
Tickets range from $15 - $88, and are on sale at The Box Office, 5959 Royal Ln., Ste. 542, online at
www.dallassummermusicals.org
and by phone at (800) 514-ETIX (3849).
For Groups of 10+, you will save 15%. Groups of 35+ save 20% and receive 2 complimentary tickets.
Please contact Group Sales at (214) 426-GROUP (4768) or email:
groups@dallassummermusicals.org
.
For more information, go to
http://www.dallassummermusicals.org
.