Unraveling the Secrets from Fear of Turbulence
Ever wonder what was that jolt on takeoff? Quite often you experience wake turbulence encounters on takeoff. Even some flight attendants may not be aware of wake turbulence but as a consumer you can educate yourself about turbulence using our app.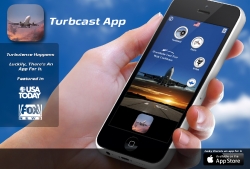 Greenwich, CT, March 16, 2015 --(
PR.com
)-- Simplus Technologies recently updated it's successful Turbcast app. Turbcast app is an app for the general public who lack understanding about the causes of flight turbulence and also for people who suffer from mild cases of fear of flying. Turbcast stands for turbulence forecasting. The main feature of the app forecast turbulence for your flight. It looks at key weather indicators to see if the conditions are ripe for turbulence. In addition, it also has many other features like self help tips, and facts that explains everything you ever wanted to know about turbulence. It has a instructional video explaining further information. The recent update has more features added such as a panic button that uses NLP Neuro Linguistic Programming Techniques. Turbcast app has been through three updates within the last several years. The app was initially released in 2010 and this year marks the 5th anniversary of its released. Currently, Turbcast is released in limited markets such as USA, Canada, Mexico, and Western Europe. Turbcast app has been featured in the USA Today Newspaper and mentioned on Fox News. To download the app click the link.
bit.ly/11ZwXlK
Contact
Simplus Technologies Group, LLC
Eric Simmons
877-787-0607
www.fearofflyingapps.com

Contact