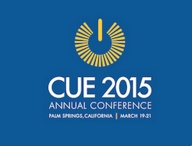 Walnut Creek, CA, March 18, 2015 --(
PR.com
)-- CUE confirmed today the top education official at the U.S. Department of Education and the top education chief in the state of California will address attendees at the CUE 2015 Annual Conference. Pre-recorded remarks will be given by U.S. Secretary of Education Arne Duncan just prior to the General Keynote Presentation by Sugata Mitra at 8:00 am on Friday, March 20th. Secretary Duncan's remarks will be broadcast via video streaming and will be available on CUE's live stream at
cue.org/live
. California State Superintendent of Public Instruction Tom Torlakson will personally welcome Conference attendees on Thursday, March 19th at 4:30 pm at the Palm Springs Convention Center, Oasis 4, just prior to kick-off Keynote Speaker Jennie Magiera's presentation.
Teaching and learning powered by technology will be a theme of Secretary Duncan's remarks, as will the role of CUE as a hub for teachers to share ideas, practices and resources. "Thanks to all of you at the CUE Conference," Duncan said, "more teachers are equipped with the tools, resources and information they need to help students prepare for success in college, career and in life itself."
Nearly 6,000 teachers and administrators are expected to attend the CUE Annual Conference from March 19-21 in Palm Springs, California. Of particular note will be the presence of the state's top education chief, State Superintendent Tom Torlakson, who will signal the kick-off on the opening day with his welcome to Conference attendees just prior to the opening keynote presentation from Jennie Magiera.
"We are thrilled to have U.S. Secretary of Education Arne Duncan and California State Superintendent Tom Torlakson address attendees of the CUE 2015 Annual Conference," said Mike Lawrence, CUE's CEO, adding "to bring to our Conference the highest ranking education officials at the state and national level is an honor for us at CUE and highlights the significance of professional learning opportunities like the Annual CUE Conference – as well as the importance of teaching, technology and innovation in California and beyond."
In addition to remarks from Duncan and Torlakson, featured speakers at the CUE Annual Conference include keynote presentations from Sugata Mitra, TED Prize Winner and world-renowned educational researcher, Adam Bellow, founder of eduTecher & eduClipper, and Jennie Magiera, a Digital Learning Coordinator with Chicago Public Schools and a White House Champion of Change. Spotlight speakers at the Conference include Jon Corippo, Hall Davidson, Leslie Fisher, Kathy Schrock, and Joy Zabala. All conference speaker sessions, detailed descriptions and times as well as in-depth bios on presenters, can be found on the CUE Guide at
2015.cue.org
.
About CUE
Ed Tech Professional Development is at the core of CUE's work. We strive to inspire innovative learners. By providing Ed Tech professional development to schools, districts, and local educators on the infusion of emerging technologies, we can help better prepare students for college and careers ahead.
www.cue.org
About the CUE Annual Conference
The CUE Annual Conference is the largest and oldest education technology conference in California and among the largest in the United States with more than 6,000 teachers and administrators attending annually. To register or for more information, visit
www.cue2015.org
#CUE15