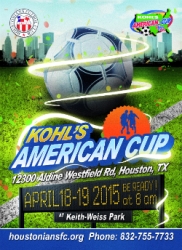 Houston, TX, March 21, 2015 --(
PR.com
)-- US Youth Soccer announced the approval of the Houstonians Futbol Club (HFC), an Urban Youth Soccer League in Mid-Town Houston, Texas to host the Spring 2015 highly successful Kohl's US Youth Soccer American Cup. The largest recreational soccer tournament in the nation that is coming to Houston, Texas on April 18-19.
Jeff Rodgers, Vice President of HFC stated that the event will feature Kohl's American Cup elements (tents, banners, premium items) and in the Houston location, the Kohl's American Cup Soccer Experience, which comes with three larger-than-life inflatable soccer games and numerous prizes and souvenirs for participants and their families.
The 2015 Houston Kohl's American will kickoff at 8am at Keith Weiss Park in Houston on April 18 and be finishing with ward celebrations on April 19 in the afternoon. Those interested in participating should contact their State Association or HFC directly at houstoniansfc.org.
"We are excited to kickoff our first ever season of hosting the Kohl's US Youth Soccer American Cup to highlight the many benefits of our sport, specifically fun and fair play, and further the experience with another year of great events scheduled," said Jeff Rodgers, who is also the Tournament Director of the Kohl's American Cup.
It is the Kohl's American Cup philosophy that all players should receive equal opportunities and benefits within their level of play. All players have the right to participate in competitions where they can develop and exhibit their skills while enjoying themselves. Kohl's American Cup provides recreational players this unforgettable opportunity and places emphasis on participation, as opposed to competition.
For a complete list of 2015 Kohl's American Cups and information on how you could participate in future events please visit www.usyouthsoccer.org or www.houstoniansfc.org.