The Arrogant Worms to Headline FuMPFest
Second Annual Comedy Music Festival to Take Place in Chicagoland Area in June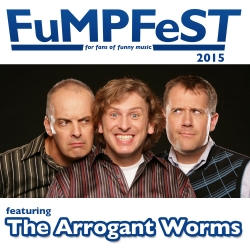 Chicago, IL, March 19, 2015 --(
PR.com
)-- Today, The Funny Music Project, aka The FuMP, announces their second annual Funny Music Festival, known as FuMPFeST 2015, will be held at the Westin Northshore in Wheeling, IL the weekend of June 5-7.
This year's Guest of Honor is national touring comedy music act The Arrogant Worms, whose hilarious and family-friendly music has made them a staple of the Dr. Demento Show where they've had hits with "Me Like Hockey," "Carrot Juice is Murder," "Rippy the Gator," "I Am Cow," and many, many more. The trio has sold more than 160,000 copies of their 13 albums. Their most recent offering is SPACE, a collection of 16 new songs released in 2014. The band has played on three continents to crowds as large as 100,000 and were recognized in 2003 as the Touring Act of the Year by the Canadian Arts Presenters Association.
Other acts performing during the festival include acts familiar to fans of the Dr. Demento show and The FuMP including Tim Cavanagh, Todd Chappelle, Jessica Delfino, Steve Goodie, Matt Griffo, Insane Ian, Drew Jacobs, Mikey Mason, the great Luke Ski, Smashy Claw, TV's Kyle, Carla Ulbrich, and Worm Quartet.
Events in the 3 day festival include comedy music concerts from all the acts, a Q&A and autograph session with the Guests of Honor, panels (such as the audience-participation-rich "Dumb Parody Ideas"), Live Podcast recordings, a "Demented Dance" featuring danceable comedy tunes, a video contest, movie screenings, and the presentation of the 5th annual Logan Whitehurst Memorial Award for Excellence in Comedy Music, aka The Logan Awards. Visit http://www.LoganAwards.com for more info.
Come join The FuMP for a full weekend of music, panels, and fun. A weekend all-access badge for FuMPFeST 2015 is just $35 until March 31st. That gets you into all the concerts, panels, special events, and everything else. On April 1st, prices go up to $45, so register soon. Individual day passes will be available at the door. For registration, hotel information, schedule, performer guest bios and more, including how you can enter the video contest or take out an ad in the program book, please visit
http://www.fumpfest.com
To see our promo video for FuMPFeST 2015 go to http://tiny.cc/fumpfest15
About The FuMP:
The FuMP is a collaborative effort made up of a large, ever-growing group of comedy musicians including such Dr. Demento Show regulars as Devo Spice, Worm Quartet, the great Luke Ski, Power Salad, Insane Ian, Carrie Dahlby, Carla Ulbrich, Seamonkey, Steve Goodie, Mikey Mason, TV's Kyle, and many more.
Artists from The FuMP posts two new comedy songs each week on their website at www.thefump.com which are available to download and stream for free. Legendary radio personality Dr. Demento called The FuMP "the best thing to happen to the funny music since Al went weird."
Songs can be purchased individually or as a monthly subscription. High quality versions of the songs are available for sale and on compilation CDs which are produced every other month. Subscriptions start at just $4.99 a month.
Contact:
Ian Bonds
FuMP Press
443-742-1217
press@thefump.com
Tom Rockwell
FuMP Webmaster
201-317-2732
devospice@thefump.com
www.TheFuMP.com
www.facebook.com/thefump
www.Twitter.com/thefump
Contact
The FuMP - The Funny Music Project
Tom Rockwell
201-317-2732
www.thefump.com

Contact